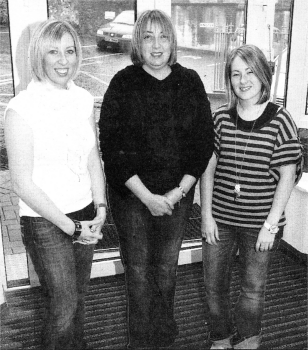 Nicola and Nadine Anderson with Tracey Allen who are raising money for their trip to Romania. US2007-528C0
THREE Lisburn girls are hoping that generous local people can help them raise as much money as possible to help the people of Romania when they visit the country this summer.
The girls are heading off to Eastern Europe in July for 10 days when they aim to bring cheer to deprived people in the country through the Smiles Foundation.
They have organised a series of events across Lisburn, beginning this weekend with a coffee morning and lunch at First Lisburn Presbyterian Church from 10.00am till 2.00pm tomorrow (Saturday), to raise money for their mission.
Sisters, Nicola and Nadine Anderson will travel with Tracey Allen to help in the Foundation's work to relieve poverty for many through a variety of projects.
Tracey commented: "The three of us went out last year to a children's camp and we decided to do something more this year. We'll be helping younger children and babies as well as helping people in the community."
She continued, "The Smile Foundation have projects such as building a medical centre and a children's centre.
"We just want to work with the children to help in any way we can, delivering food parcels or going out and visiting in the community - so we hope to raise as much as we can."
On Wednesday, May 23 in First Lisburn Presbyterian Church Hall the girls will host a cookery demonstration from 7.30pm.
They will also take part in the Lisburn Fun Run on June 20 and on Friday, June 22 get your dancing shoes on for a 70's and 80's night at Hilden Bowling Club, from 8.00pm till late. Tickets cost £5 including supper. For more information about the events contact Tracey on 07851662700.