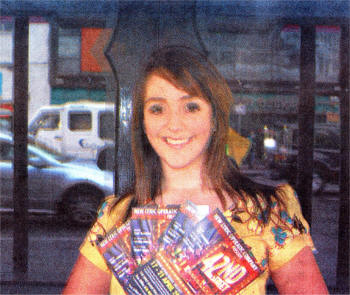 Amy Harper
AT six she was the UK 'Star Toddler' and since then 17year-old Victoria College student Amy Harper has gone on to star in numerous school productions such as 'Calamity Jane' and 'Guys and Dolls'.
However this month will see her tackle her most challenging role to date when she takes centre stage as Peggy Sawyer in the New Lyric Company's production of 42nd Street'.
This will be Amy's first major role with the company. But when she joined in September did she have any idea come the November auditions she would find herself as leading lady?
"Definitely not. Going to the auditions in November I was the first timer, the youngest one there against all these seasoned professionals," she said.
Amy plans to attend University and study musical theatre. She hopes to pass the Royal Academy of London's audition and that of the Guildhall School of Music and Drama.
"It will be like the audition Billy Elliot had in the movie where he had to impress a panel of judges," she added. What about nerves? She said this would not be an issue: "Reading in assembly on the other hand - now that scares me," she added.
'42nd Street' runs from Tuesday April 17 to Saturday April 21 at 7.30pm with an additional Saturday Matinee at 2.30pm.