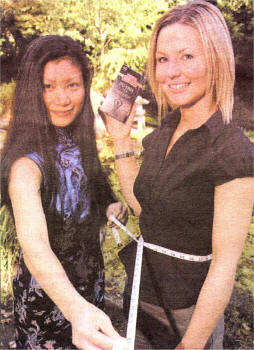 Model Hannah Su measures the waistline of Robert Roberts' Sinead Adair as the company launches its own brand of Pu-erh tea in Northern Ireland.
A LISBURN grocery manufacturer is set to take Northern Ireland by storm with it's own-brand of a tea believed to promote healthy weight loss.
Robert Roberts Ltd has launched a range of Pu-erh tea - a Chinese tea already which has a cult celebrity following after it was reported that Victoria Beckham uses it. The tea is set to become a big hit amongst Northern Ireland's health conscious and dieters and Robert Roberts NI Managing Director Gareth Bradley welcomes the addition of this speciality tea to their brand portfolio.
He commented: "In recent years Northern Ireland's speciality and herbal fruit tea market has experienced significant growth with a 30% year on year increase.
"We all love a cup of tea but this research demonstrates that consumers increasingly want healthier and more exotic options.
"Pu-erh tea is high in demand worldwide because of its numerous health benefits and I'm confident that it will be just as popular in Northern Ireland. It has a refreshing deep flavour, is rich in antioxidants and low in caffeine, and Robert Roberts is delighted to be offering this high quality tea to our consumers at a very reasonable price," he added.
Named after the town where it originated in China's Yunnan Province, it is believed that the tea promotes healthy weight loss by boosting the metabolism and aiding the body to digest fatty foods.