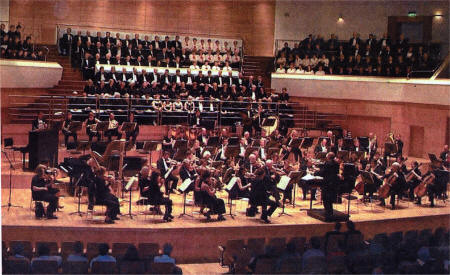 The Studio Symphony Orchestra.
LOVERS of classical music are in for a treat when the Studio Symphony Orchestra cements its new partnership with the Island Arts Centre on Saturday night (November 17).
The orchestra, which was founded by Havelock Nelson in 1947, brings together non-professional musicians from throughout Northern Ireland, providing a rare opportunity for local audiences to enjoy a concert by a full symphony orchestra.
For many years the Studio Symphony Orchestra has been a recognised leader in non-professional music making in Northern Ireland and provides the opportunity for musicians from all walks of life to play orchestral music at a very high standard.
Pleasure
The orchestra has had the pleasure of accompanying many fine instrumenta] soloists, including Barry Douglas and most recently, James Galway at the Waterfront Hall.
At their concert in the Island Arts Centre on Saturday night, the orchestra will be performing a wide ranging repertoire, including Mendelssohn's 'Fingal's Cave', Mercadante's
'Flute Concerto in E Minor', Mozart's 'Wine Kleini Nachtmusick', Schubert's Symphony No 8 (Unfinished) and Glinka's 'Russian and Ludmilla'.
The orchestra will be under the baton of conductor David Openshaw and Leader Ottoline Maas. They will also be joined by soloist Eimear McGeown, who was recently crowned Clandeboye Young Musician of the Year.
Spokesperson for the Orchestra; Mr Alan Greenlee said: "This will be out first time at the Island Arts Centre and we are looking forward to the night; we are really thrilled to play there.
"This will be the last concert in our 2007 calendar and since this is our 60th year, it is great to be playing in a new venue," concluded Mr Greenlee.
Saturday night's concert is a unique opportunity to see a full size symphony orchestra in Lisburn and, if all goes well, the hope is that more concerts could soon follow.
For further information or to book tickets for the concert, priced £10/8, contact the Island Arts Centre Box Office on 028 9250 9254.