by STACEY HEANEY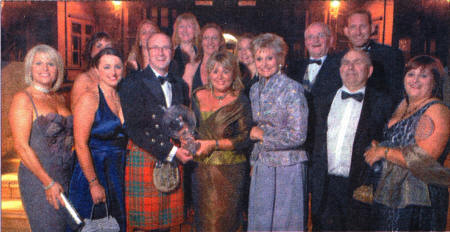 Sandra Corkin, Managing Director of Oasis Travel (centre) and her team collect the Tyrone Crystal globe from comedian Fred MacAuley and television personality Angela Rippon after Oasis was named Northern Ireland Travel of the Year for the fifth time at the annual Northern Ireland Travel and Tourism Awards
A NUMBER of local businesses have been honoured at this year's Northern Ireland Travel and Tourism Awards. Down Royal's Festival of Racing, Oasis Travel and Belfast International Airport were all recognised at the glittering award ceremony last Friday (October 19) at the 16th Northern Ireland Travel and Tourism Awards.
One of the most sought-after awards on the night was the Tyrone Crystal World Globe for the Travel Agent of the Year. For the fifth time in 17 years of the Awards, Lisburn-based Oasis Travel was the recipient. No other travel agency has won the award more than once – a fact which underlines the scale of the Oasis achievement and its consistency in providing a quality service.
Managing director Sandra Corkin said, "I'm elated to have received this award for the fifth time in what is an extremely competitive industry. I understand Oasis is the only travel agent to have won this award more than once which is a fantastic achievement for us and a testimony to the hard work and dedication that our staff put in to consistently provide a quality service."
Now in its ninth year, the Down Royal Festival has attracted race-goers, top jockeys, owners and trainers from all over the British Isles and has brought millions of pounds into the local economy.
Racecourse Manager Mike Todd received the Tyrone Crystal trophy for the Best Event/Marketing Initiative at the prestigious event.
A delighted Mike commented, "We are obviously delighted that our event has won this very prestigious award. We are also delighted with the recognition of what we have achieved since the inception of the Festival of Racing."
He continued, "It is great that the Travel and Tourist Industry have acknowledged the amount of people we bring from out of state to the event and the work that we do in showcasing Northern Ireland in world sporting events.
The achievement of Belfast International Airport in continuing to grow its direct air services at a rapid rate, as well as convincing Aer Lingus to set up its UK base at Aldergove was also recognised as they were awarded the Northern Ireland Special Achievement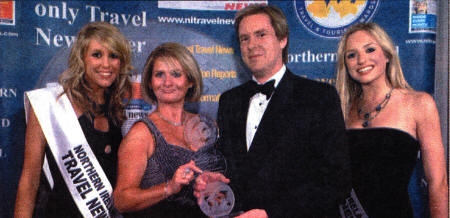 Donna and Mike Todd of Down Royal after winning the Northern Ireland marketing initiative award for the Northern Ireland Award. Festival of Racing at Down Royal. Included are NI Travel girls Gilly Redpath and Hayley McDonald (I & R).