By Julie-Ann Spence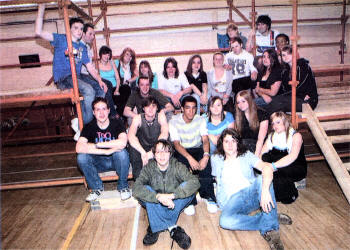 The cast of the Fusion Theatre during rehearsal for their production of Jesus Christ Superstar. US3507-114A0
DUE to popular demand, Fusion Theatre are repeating the award-winning 'Jesus Christ Superstar' in the Island Arts Centre on Thursday September 6 until Saturday September 8.
Audiences can expect to see the same high standard of performances as before, however this time the production team have made several changes.
Encouraged by winning three prestigious awards in the Sullivan Category of the Association of Irish Musical Societies (AIMS) awards - for 'Best Modern Opera', 'Best Male Voice' and 'The Spirit of Aims Award' - the group have been working hard to re-invent this production.
Nik Parks, the winner of 'Best Male Voice', was recently seen on BBCI's 'Any Dream Will Do' getting to the final 24 of the competition. Nik, along with Chris Milford and Joanna Hyndman, are repeating their roles as Judas, Jesus and Mary Magdalene. This time around some of the other roles have had to be re-cast because of other commitments from some of the original cast.
However, the ever-versatile Fusion Theatre are using the opportunity to introduce other talented singers and actors to the roles, and indeed to introduce changes to the show.
Director and Musical Director, Ian Milford, explained: "We are constantly trying to introduce new challenges for this young company and decided that by re-choreographing the dance routines, redesigning the set and introducing a few surprises for the audience, this will keep the cast and the production fresh and enjoyable, so even if you saw the last production you will be impressed by the new touches added."
Once the three night run in Lisburn is completed, Fusion Theatre will be taking the production to the prestigious Waterford Festival of Light Opera at the end of September. In 2005, the group won the adjudicator's special award for their production of 'Les Misèrables Schools Edition'.
This is one of the first productions in the Island Centre's autumn programme and tickets, which cost £I0, can either be obtained from the Box Office on 9250 9254 or online at www.tickets.lisburncity.gov.uk.