The thieves who stole Christmas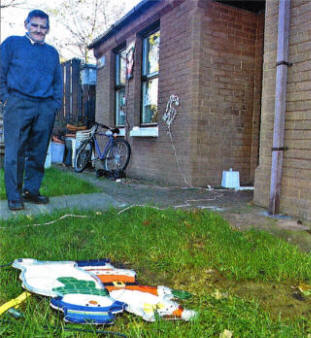 CRUEL thieves have ruined Christmas for one local family after they stole their Festive display.
Over £400 worth of Christmas ornaments and lights were stolen from pensioner James McDermott's home in Rathvarna Avenue, Ballymacash, between Thursday afternoon and Friday morning last week.
James and his wife June, who are both disabled, had gathered the display over the years and were looking forward to making Christmas bright and cheerful for their 15year-old grandson.
To add to the trauma, an ambulance had to be called for the 70-year-old after he suffered from an angina attack as he gave police a statement about the theft.
"We were looking forward to Christmas," Mr McDermott commented. "We spent money we haven't got to have a nice display. "We've saved hard and built up the collection over the years and we just wanted Christmas to be nice for our grandson Jamie and his girlfriend Stacie.
"This has just knocked the heart out of everything," continued Mr McDermott. "We probably won't be able to replace everything now. I only get £64 a week and my wife and 1 are both disabled, anybody who could do this is sick.
"I suffer from serious heart trouble, I have stents in and have had a ruptured artery. I actually took an angina attack when the police were here and they sent for an ambulance, they wanted me to go to the Lagan Valley but I have to sort things here."
A police spokesman said: "A Christmas display, including a Christmas sleigh and reindeer, a free-standing Santa and a wall mounted climbing Santa were stolen between 2.30pm on November 22 and 8.30am on November 23."
Anyone with information about the robbery contact police in Lisburn on 0845-6008000 or use the Crimestoppers number which is 0800-555111.