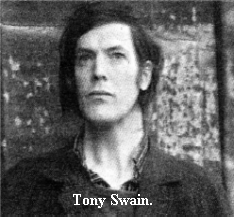 THE work of a Lisburn-born artist will be shown at one of the world's most famous art festivals. Tony Swain will be exhibiting his work at this year's Venice 'Biennale of Art'.
Recognised as the world's largest and most prestigious international showcase for contemporary visual art, the Venice Biennale of Art takes place every two years.
More than 65 countries participate in the five-month event, with each country hosting an exhibition or pavilion dedicated solely to the work of its chosen artists.
Forty-year old Tony who studied at Glasgow School of Art and is based in the city, is one of six artists selected to represent Scotland.
A sheet or cut section of newsprint provides the basis for Tony's meticulously executed paintings, which offer a view into a complex and surreal private world. Using the disconnected images found across such a spread, Swain works over this, embellishing imagery, distorting and extending perspectives and introducing new figurative and abstract imagery to produce works which are mesmeric and intriguing.
His work has been shown internationally, including exhibitions in Glasgow, Berlin, San Francisco and Edinburgh.