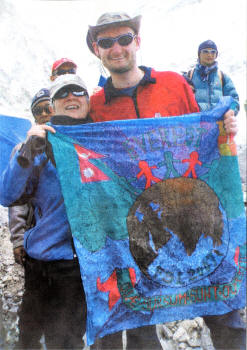 Marian hands a Friends' School flag over to Roger. The flag was designed by Alyson Clarke from Year 8 with the motto 'Seek ye the things that are above'. Roger took the flag with him to place at the summit of Everest.
LISBURN man Dr Roger McMorrow was truly on top of the world this week when he phoned his wife to tell her he had conquered Everest.
He reached the summit of the world's highest peak at 4am local time on Thursday after his gruelling trek where he has been working with the Caudwell Xtreme Everest team who are using the journey to carry out medical research.
Lisburn man rings his wife to say he's conquered Everest
The former Friends' School pupil made his ascent from the south, via the South East Ridge Following his arrival at the summit, Roger made a special call home to speak to his wife Sara.
Describing his achievement she said, "I'm delighted he made it and that he is safe. He phoned me at 4am our time from the summit ridge. Once they reached the summit there were high winds and I have since heard that they are at the South Col which is the highest camp up there.
"He sounded really relieved. He was out of breath, which is to be expected, but he sounded strong and pleased and he knows when you're at the top you're only half way there so he wasn't elated yet. He told me he was there and that he loved me and was on his way home, I'm so delighted."
Roger isn't expected to arrive home until June 12, however Sara is hoping she and their daughters Aoife, who is a year and half and Isolde, three months, can see him before that, "He can probably shave a week off, he has research to finish, which I think has gone well, but we can't wait to see him.
"His team were really strong, there were ten in total and I think they all made it to the summit so I'm delighted for all of them, but especially Roger." During the treacherous climb he was confronted with temperatures down to -40°C, high winds, storms and critically low oxygen levels. Frostbite, exhaustion, hypothermia and high altitude illness (mountain sickness )were ever-present and potentially fatal risks.
During his climb Roger kept in touch with loved ones via a web blog, in which he described his journey.
'Experience of a lifetime' on Everest for teacher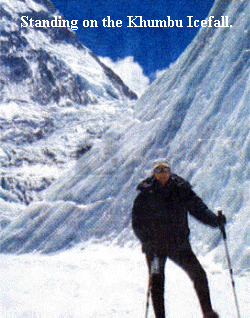 FRIENDS' school teacher Miss Marian Mateer has described a journey she made to Everest in March as the 'experience of a lifetime'.
Miss Mateer spent 23-days on Everest, working with Dr McMorrow as a volunteer with the the Caudwell Xtreme Everest medical study.
She said, "I first heard about the trek last June from Roger McMorrow and I set about trying to get myself as fit as possible. To help keep me motivated I raised money for two charities – Cancer
Research and Marie Curie, and got a total of £4,300." Describing her journey she added: "Along our route we were tested by teams of doctors/nurses who normally work in Intensive Care Units. "The tests were looking at how we were affected by low levels of oxygen as we gained altitude. The results of these will ultimately help critically ill patients who suffer from low oxygen levels."
She continued, "The trek to base camp took 10 days. The trekking itself was not too difficult but coping with the altitude was. The scenery, however, was stunning. 'Arriving at base camp was really exciting. It's a desolate place but it was just teeming with people and activity. We were tested once more and spent the rest of the time exploring the Khumbu Icefall and taking photos."
Once there, however, she decided to go even further as she explained: "I went with four others up an extra 300m to the top of Kala Pattar which afforded great views of Everest. I would go back again tomorrow if possible."
Research on trip will benefit critically ill patients
THE Caudwell Xtreme Everest team is a research project co-ordinated by the Centre for Altitude, Space and Extreme (CASE) environment medicine.
Their goal was to place a research team on the summit of Mount Everest and make the first ever measurement of the level of oxygen in human blood at this extreme altitude.
This research will be the centrepiece of an extensive programme of research into hypoxia (low oxygen levels), altitude illness and human performance at extreme altitude.
Studying
The CASE team hope that the lessons learnt from studying humans in life at the limits of survival can be brought back to help in the care of critically ill children and adults.
Dr McMorrow set up laboratories at Base Camp (5300m), in the Western Cwm (6200m) and even carried out some experiments on the South Col (7900m).
His team then made a few essential measurements on the summit, before beginning the return journey.