STUDENTS from Wallace High School recently took part in a fundraising musical evening at Hillsborough Castle in aid of 2Kare, a local charity set up by the Regional HIV Social Work team, which raises money for people living with HIV. The charity was founded in 1999 and in recent years has come under increasing financial pressure.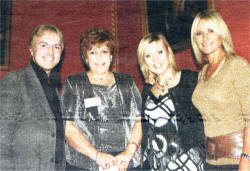 To raise much needed funds the 2Kare decided to hold a concert at Hillsborough Castle, which was compered by Lynda Bryans.
Wallace High School Capella Choir took part in the concert, along with the BRA Traditional Folk Group. Colin Angus and Alex Best from AIDS 2000 also attended the event and the guest speaker for the evening was the Chief Medical Officer, who acknowledged the work of the Regional HIV Social Work team.
The event raised over £5000 for the charity, as well as raising awareness about HIV in Northern Ireland.
Ulster Star
07/11/2008