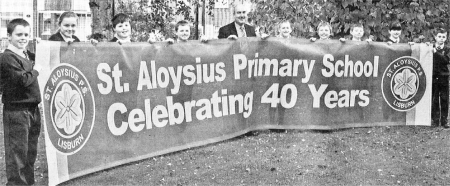 Mr McClean, Principal and pupils from St Aloysius Primary launch the schools' 40th anniversary celebrations
ST Aloysius Primary School in Lisburn is preparing to celebrate its 40th anniversary on a wave of optimism after receiving a glowing inspection report.
Throughout the past four decades the school, on the Ballinderry Road, has welcomed thousands of eager pupils, and parents, through its doors.
Mr Patsy McClean, the third Principal in the history of the school, said: "Since 1968 thousands of boys and girls have passed through our school gates, all I hope with warm and fond memories. I must also pay tribute to a truly dedicated, nurturing staff who, throughout the years, have given so much of themselves to the enduring development and fulfilment of all our pupils."
A programme of events has been planned to commemorate the special anniversary.
To start the celebrations a specially designed banner was unfurled by the children and staff last week.
The next event was the opening of the recently modernised library, with its new computerised 'ALICE' system, by local author Declan Carville.
A Papal Blessing, recognising the school's unique role in the education and development of its pupils, will be presented to the school by the Most Rev Donal McKeown on Wednesday 12th November.
The Mayor of Lisburn, Councillor Ronnie Crawford, will be the next VIP to visit the school.
On 24th November he will unveil a commemorative school logo affirming the ethos of the school 'To live, love and learn in a caring Catholic community.'
On Tuesday 9th December the school will open its doors to allow the local community to experience 'St Aloysius in action!'
The celebrations will continue into 2009 with a special Mass, concelebrated by Bishop McKeown in St. Patrick's Church, where all members of the school community, past and present, will gather together for a mass of thanksgiving. Other events include a Fun Day in May, a whole school photograph and the joint planting of a tree by the youngest pupil in the school this year and the youngest pupil from 1968. Outstanding musical and theatrical productions have long been associated with St Aloysius PS and an another production will be performed in April.
Mr McClean added: "A great debt of gratitude is due to all the pupils and staff who have worked and learned within 'St Ally's' and have left their unique imprint on its story.
"I do hope that all the events planned to celebrate our fortieth anniversary provide a fitting tribute to all the staff, parents and pupils of our great school, be they from our illustrious past or radiant present."