BID TO LURE LEWIS TO CITY CENTRE AND CREATE 1000 JOBS
by JULIE ANN SPENCE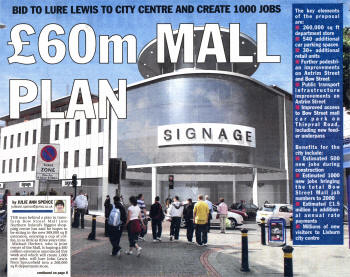 THE man behind a plan to transform Bow Street Mall into Northern Ireland's biggest shopping centre has said he hopes to be sitting in the new 389,000 sq ft extension, enjoying a cup of coffee, in as little as three years time. Michael Herbert, who is joint owner of the Mall, is hoping a £60 million extension announced this week and which will create 1,000 new jobs, will lure John Lewis from Sprucefield into a 260,000 sq ft department store.
Development a 'massive vote of confidence' in Lisburn
The key elements of the proposal are:
260,000 sq ft department store

540 additional car parking spaces

30+ additional retail units

Further pedestrian improvements on Antrim Street and Bow Street

Public transport infrastructure improvements on Antrim Street

Improved access to Bow Street mall car park on Thiepval Road, including new feeder underpass

Benefits for the city include:

Estimated 500 new jobs during construction

Estimated 1000 new jobs bringing the total Bow Street Mall job numbers to 2000

Estimated E1.5 million in additional annual rate payments

Millions of new visitors to Lisburn city centre
However, even without them, he said the department store will go ahead with House of Fraser believed to be considering a Lisburn outlet. After weeks of gloom on the high street with fears over the future of Woolworths and MFI, the investment is being hailed as a massive vote of confidence in Lisburn city centre.
The scheme would mean the demolition of existing buildings along Antrim Street and part of Bow Street to make way for the development. "We've invested considerable time and resources in the preparation of this application to ensure that everything on offer at the out-of-town Sprucefield site can be accommodated in Lisburn City Centre," said Mr Herbert.
"Everybody in Northern Ireland wants to keep city centres vibrant," he continued. "Why should Lisburn be any different? This will be the biggest ever investment in Lisburn. "Any department store should be right in the centre of Lisburn. John Lewis recently opened a city centre store in Cambridge, which is attached to a shopping centre much like the Mall. If they can do it in Cambridge, why would they not do it in Lisburn?
"More than two years ago the John Lewis Partnership said it would look to the Republic of Ireland if it didn't get planning at Sprucefield. It has now announced its intention to open in Dublin and yet it says it still wants to come to Sprucefield. We believe that if the flexibility and willingness exists to open at least two stores on the island, then with support from everybody in Lisburn, the John Lewis Partnership can come the extra few miles into our city centre.Lisburn needs to have confidence in itself and our politicians need to become persuaders for the city centre," continued Mr Herbert. "Lisburn City Centre has so much to offer and we shouldn't be settling for a sub-optimal solution at Sprucefield. Our proposal can bring proper regenerative benefits to the city centre and still give the department store owner broadly the same shopping catchment and opportunity as exists at Sprucefield.
"And while our target is the John Lewis Partnership because it has said it wants to come to Northern Ireland; we will also be targeting other major retailers at home and abroad and have already spoken directly to one other UK retailer as well as making contact with the John Lewis Partnership," he added.
"This is a genuine plan to transform Lisburn city centre into a prime retail destination by securing a major department store. Lisburn has the opportunity to make that transformation and Bow Street Mall stands ready to make the investment required to make that happen."
Mall development a 'golden opportunity'
THE local business community have voiced their support for the Bow Street Mall development, calling it a 'golden opportunity' for Lisburn.
Prominent businessman Rowan Black, who owns Greens Foodfare in Bow Street, has in the past expressed concern about the John Lewis development at Sprucefield and has called on the Assembly to publish PPS5 which sets out the planning guidelines for out of town development.
He has given a warm welcome to the Mall plans and has asked on all politicians in the city to do likewise.
"This is very much a viable opportunity and an alternative to the Sprucefield application," said Mr Black. "We welcome the increase in footfall and the jobs being created in the city centre. It will be invaluable for Lisburn.
This is a golden opportunity from a private investor wishing to invest a large amount of money in Lisburn city centre and it is not an opportunity that should be wasted."
Mr Black called on all local politicians to support the business community by welcoming the proposal and "throwing their weight behind it at all levels."
Mayor and MP are keen to view plans
LISBURN Mayor Councillor Ronnie Crawford and Lagan Valley MP Jeffrey Donaldson have both said they are keen to view the proposals for the multi-million pound extension to the Bow Street Mall.
"I have always been supportive of development of the Bow Street Mall and I will look very carefully at this latest proposal," Mr Donaldson commented.
However, he stressed the importance of developing Sprucefield and said he understood no direct approach had been made to John Lewis about locating a store in the Bow Street Mall. Lisburn's Mayor, Councillor Ronnie Crawford said: "I have concerns about the accommodation of the extra traffic in the city and about what impact this development will have on the rest of the city. "However, I will be very interested to see the plans."
Chairman of Lisburn City Council's Economic Development Committee, Councillor Allan Ewart added: "Lisburn City Council has always encouraged any development which will enhance the city centre."
Scheme will 'integrate' with city
THE designers of the Bow Street Mall scheme, Bryson Architects, say the extension will integrate with Bow Street and revitalise the entire city centre.
Along with the proposed 260,000 sq ft department store, other key elements will include an additional 540 car parking spaces and 30 new retail units all integrated into the existing Bow Street Mall.
Also proposed is a major new access point for the shopping centre and environmentally-friendly transport initiatives are included to reduce traffic pressures currently experienced on Antrim Street and elsewhere in the vicinity of the city centre.
This will include a new feeder underpass that will have direct access to the car park at Bow Street.
Paul Gillespie of Bryson Architects, explained: "The new development provides a great opportunity to revitalise this part of Lisburn city centre. It creates a new
focal point entrance directly at the end of the pedestrianised Bow Street which will help to integrate the mall into the centre of Lisburn.
"The new mall starts at this new corner entrance and continues internally to link up both ends of the existing mall in a loop arrangement," he continued.
"Further linkages are provided at first floor gallery level back to the existing foodcourt, and a major atrium core containing feature lifts and escalators rises up though all retail levels to the roof car park above.
"Externally the development provides live shop frontages on all sides which is made possible by providing a basement service area.
This will take away all on-street servicing and together with the improvement to the road alignment will help to make Bow Street and Antrim Street more pedestrian friendly."
A warm welcome from City Centre Management
THE Chairman of Lisburn City Centre Management, Alderman Edwin Poots (pictured), has given his support to the Bow Street Mall plan, saying he welcomes "any proposals to further develop Lisburn City Centre."
"Clearly a development of this scale would have a huge impact and if the Bow Street Mall are successful in identifying a major anchor tenant, it would be beneficial to the footfall of the general area," said Mr Poots.
Mr Poots also said he would not be attempting to influence John Lewis on the location of their proposed Lisburn store but added that he would be seeking the further development of Sprucefield, as well as the Bow Street Mall.
"It is entirely a matter for John Lewis to make their own commercial decisions and I would not be seeking to influence the company as to where their store should be located within the Lisburn area.
"Ultimately we would like to be going forward developing both - Sprucefield and Lisburn City Centre and more importantly developing connectivity between the two areas."
Mr Poots stressed the importance of developing Lisburn "in its entirety" to ensure it becomes a "stronger retail destination."
"I have been asking the private sector to make further investment in the city centre for some time, therefore this application, if it gets approval and proceeds to development, is something that would be welcomed by the majority of public representatives in the Lisburn area."
Plans published - so what happens now?
THE owners of the Bow Street Mall have submitted their major planning application on November 27. So what happens now?
According to joint owner Michael Herbert, the Mall already owns some properties in Antrim Street, which will be demolished to make way for the multi-million pound extension and they are in the process of negotiating with the remaining property owners.
However, if they fail to reach agreement this will not mean the end of the road for the development.
Mr Herbert has indicated that the Department for Social Development have been made aware of the development and are currently looking at the proposals. Should the Mall be unable to secure the remaining
premises in Antrim Street, the developers could ask the DSD to vest the land, as they did with the Victoria Square development in Belfast.
The owners of the Mall have also been garnering support for the development from local businesses, and will be meeting with politicians in due course to discuss the proposals.
"We have met with traders on an individual basis," said Mr Herbert, "and we have requested a meeting with the Lisburn Chamber of Commerce and with Lagan Valley MP Jeffrey Donaldson to explain our proposals.
"We hope to gain their support, after all, why would anybody not want a £60 million investment in Lisburn? anybody
How Antrim Street could look in three years time