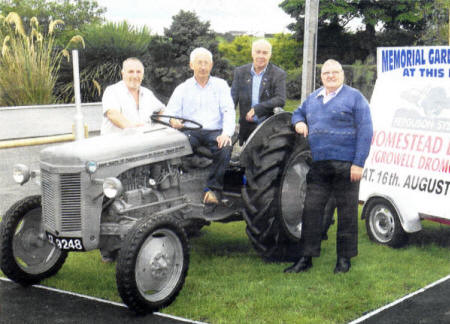 Harry Ferguson Celebration Committee representatives Samuel Law, committee member; Bill Forsythe, PRO; Eric Jess, chairman and George Cromie, secretary. look forward to the unveiling of the memorial statue at Growell on Saturday.
TOMORROW (Saturday) will see a dream come true for the Harry Ferguson Celebration Committee and the Midland Group from Co. Cavan as a bronze statue of the man whose invention of the tractor revolutionised farming is unveiled at his family's restored homestead outside Dromore.
The unveiling by the great man's granddaughter Mrs. Sally Fleming from London will take place during the annual Ferguson 'Working Day' which is always well attended by exhibitors and spectators from around the world.
John Sherlock inspects the Harry Ferguson sculpture at the Bronze Foundry in Dublin. The lifesize bronze statue, which will be the centrepiece of the Growell Commemorative Gardens, was commissioned by Lisburn City Council.
John Sherlock was also responsible for the statue of portable defibrillator inventor Professor Frank Pantridge which stands in the grounds of Lagan Valley Island Civic Centre.
The working days have been taking place for a number of years and have provided some of the funding for the £160,000 Ferguson Memorial Garden which will also open tomorrow. This year's event is expected to attract a record turnout and the day will be a time for double celebration as those present also mark the 50th anniversary of the Massey 65 tractor.
"This will be a very special day in Ferguson history and to all who will be in attendance a day to remember as this long overdue memorial garden will be open for all to visit and lean, about Harry's life history and many inventions and designs,' said a Committee spokesperson. Today (Friday) will see trade and exhibition stands being set up in 'the long field' at Growell which was also the location of Harry Ferguson's first flight in his aeroplane in 1909.
Tomorrow (Saturday) will continue as normal until 2.45pm when everyone will be invited to walk up to the memorial garden to be part of the official opening at 3.00pm.