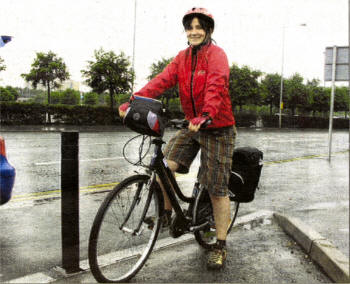 A BALLINDERRY woman has completed a challenging bike ride around Ireland. Aisling Shannon, 25, recently cycled for three and a half weeks, taking in the four compass points and travelling through all the coastal counties, clocking up approximately 1200 miles.
The architectural graduate spent nine months in New Zealand and thought because she had the chance to see so much of that wonderful country, it was only right that she saw more of her home land.
Challenge
Speaking about her challenge Aisling said: "I utilised a wide network of friends and family to stay with in my three and a half week trip, staying in hostels when no friends or family were nearby.
"I went through 18 counties and I had four rest days, in Wexford, Cork, Castlegregory and Ballintoy. I did the cycle as a challenge, a holiday and a way to get to know my country. It was a fantastic experience."
Cycling
The weather was far from ideal for cycling but local girl battled against lashing head- winds and pouring rain, with scarcely a sight of the sun.
"The rain didn't put me off at all. I soon dried off. I enjoyed the challenge and I would recommend it.
" It really is not as hard as it seems. I met a couple of ladies in their 60's and they were cycling around Ireland too - they were an inspiration," Aisling added.