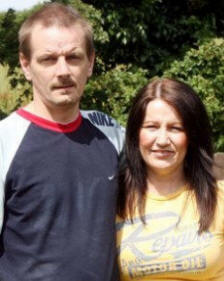 Alan Stitt and wife Barbara will leave for China next month. US2708-112A0
MOTOR Neurone Disease sufferer Alan Stitt is preparing to fly to China next month to start controversial stem cell treatment.
He has been told a Beijing hospital, is one of the few places in the world which offers the treatment, and is due to begin his treatment on September 11. Alan, from Ashcroft Way, Ballinderry will travel with his wife Barbara and mother Rita hoping for a miracle that will slow down the affects of the fatal condition he contracted some months ago, and give him a better quality of life.
The overall cost of his stay will be around £19,000 and family and friends have already held a number of fundraising events to pay for the journey.
Alan is expected to leave on September 9 and after a 14 hour flight will arrive at Qingdao, an hour's flight from Beijing. After one night stay at the Yi Qing International Hotel he will be assessed and start treatment at the Chengyan People's Hospital. There he will get five stem cell treatments that include a lumbar puncture. After each course the patient must lie still for up to eight hours either on his back, his side or in a curled up position. Each treatment lasts 30 minutes followed by physiotherapy.
Afterwards the family will fly back on October 11 to allow Alan to recover.
Alan's uncle Alex Agnew, who has organised the trip, said the family were hopeful the stem cell treatment will at least offer a better quality of life.
"It would appear at this moment that because there is no known cure or cause, this is his best option" said Alex.
"There are 6,000 people who have had this treatment at this hospital with a 86 per cent success rate.
There is also the possibility you can go back in six months time at a reduced rate if it you think you need another course of treatment."
Alan says himself that there is no other option. He has spoken to another man who is in a wheelchair and had the stem cell treatment and he told him it has helped improve the strength of his legs."
Alan, who was told he would be in a wheelchair within three months, is currently on a herbal remedy that he got via the inter-net and which the family believe has helped him tremendously. "Alan has had a good positive attitude throughout which is helpful to both him and his family,' said Alex. "At the moment he is doing well. He is mobile but finds it hard to walk down stairs. He injured a shoulder and broke a bone in his hand after a fall so he is naturally wary of falling." Recently Alan, a former amateur footballer for Ballymacash, got to go on the trip of a lifetime when Alex organised a visit to see his favourite team Liverpool play.
Family and friends have organised a number of fundraising events to help raise money towards the stem cell treatment.
On Saturday August 23 at Lower Ballinderry Road there is a ten mile tractor run organised by Michael Timmons and Alan Ross. For more details ring 92651079.

A supper dance will be held on September 5 at Randalstown Bowling Club from 8pm. Music by Kentucky Country.

Then on September 6, Bluebell Football Club, Ballymacash are holding a Day at the Races from 5pm to 7.30pm. There will also be a 'Stars in your Eyes' competition at 8pm. Entry free. All contestants must dress as the 'Star' they will be impersonating.

Details from 92-677824.