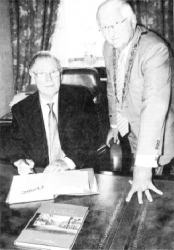 A NEW book by a local author is literally giving people the chance to stroll down memory lane.

'All around Lambeg' by Gilbert Watson is organised as a set of 12 historical walks around and about the neighbourhood of the village.

And it can equally be enjoyed as an 'armchair walk' when the mind's eye can be stirred by one of the many nostalgic photographs and affectionate anecdotes.

The five townlands which make up Lambeg are straddled by road, river, canal and railway and in their modern haste commuters or travellers may have lost sight of the rich and varied local history still visible in the landscape.

The walks, with their easy pace and sound historical commentaries, take readers back to gentler times and also provide a means of understanding the huge significance of this area in the development and prosperity of the linen industry of Ulster since the early 18th century.

The book also reveals much about the lives and times of ordinary people as well as the families in the 'Big Houses'.

The walk along Belsize Road provides an opportunity to see the old photograph of Lisnagarvey House in its place opposite Harmony Hill. It was built in the 1840s for the young Quaker widow Sarah Richardson of Glenmore.

Her nephew recalled her fondly as 'the only person in authority over me whom I never remember to have disobeyed, and who never, as far as I recollect, directly ordered me to do, or not to do, anything'.

In a cottage on Harmony Hill itself lived William Moore, a wheelwright at Glenmore Bleach Works, owned by the Richardsons, who was also an inventor of handy mechanical appliances such as a butter making machine.

Helping to launch the book, the Mayorof Lisburn Councillor Ronnie Crawford, said it made a major contribution to our understanding of the local history of Hilden, Conway and Seymour Hill as well as the wider Lambeg and Lisburn area.

All Around Lambeg' is funded in part by Lisburn Arts Advisory Committee and Lisburn City Council and is published by Colourpoint Books at £15. It is available from the shop at the Irish Linen Centre and Lisburn Museum as well as the Lisburn branches of Easons and Waterstones.