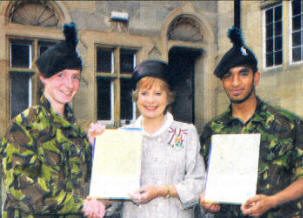 TWO Lisburn teens were celebrating this week as they joined more than a hundred Cadets from across Northern Ireland to collect BTEC Awards.
Cadet Patrick Hunter and Cadet Chris Duly were amongst the recipients proudly collecting their diplomas at a reception held at Stranmillis Training College in Belfast.
While the Cadet movement is more usually associated in the public mind with physical challenges and acquiring military skills, the BTEC First Diploma in Public Service is evidence that these teenagers are well up for academic achievements too.
Congratulating the teenage award recipients, Colonel Derek Smyth OBE, Chairman of the Joint Service Cadet Committee for Northern Ireland said:
"We expect high standards from our Cadets in every challenge they accept, but even we have been bowled over by the success of this year's BTEC programme.
"The BTEC First Diploma in Public Service is a generally recognised and widely respected Level Two qualification, roughly equivalent to four GCSEs.
"Attaining this Award is a considerable achievement and one that will be recognised not just by all of us in the Cadet movement but also by future employers. It is a significant addition to a young person's CV and an indication of some of the excellent work undertaken by Cadets.
"We look forward to building on a success story which this year alone has delivered 113 BTEC Awards - the equivalent of an extra 452 GCSE passes."