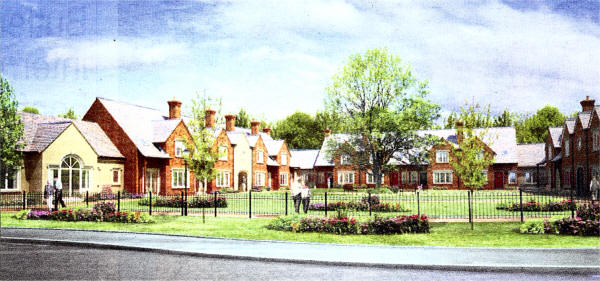 An artists' impression of how the residential development off Hillhall Road would look.
TWO Lisburn companies are behind proposals for Northern Ireland's first ever traditionally-built retirement village.
The unique scheme, which aims to provide "an attractive, high quality and secure environment for the over 55's" is being built by WJ Law and Co as part of a major residential development at Ballantine Garden Village off the Hillhall Road.
The design by Lisburn architects Knox & Clayton is based on a successful English model of similar villages by English Courtyard Developments Limited.
Principal Architect on the project Philip Cullen explained: "It is designed for people who do not need nursing care, but whose day-to-day independent living would benefit from more appropriate surroundings capable of adapting to their future needs.
"The English Courtyard way of life combines continued independence with total peace of mind for both residents and their families.
"It is a concept based on the traditional courtyard plan of almshouses. The relationship of the buildings to the space around them is of great importance and the landscaping creates the feeling of a manor house garden.
"When people visit an English Courtyard their first reaction is 'what a lovely place' and that's exactly what we aim to emulate in this scheme.'
The retirement village will consist of 25 two bedroomed houses in an Arts and Crafts style, most with garages, a warden's apartment, plus guest apartments. But the scheme on the Hillhall Road will go one step further as WI Law & Co's, David Law explains: "We have decided to incorporate a 47 bedroomed nursing home into the village, designed in the style of the well known arts and crafts architect Charles Voysey and which will be available exclusively to residents.
The idea is to give residents peace of mind and the security of knowing that if they ever do need nursing care, they can remain in the locality once their independent living is no longer possible.
"For this reason we also included a warden, who will be there really in a management capacity and the addition of the guest apartments means residents can invite family to stay and rent it for a nominal fee.
"As a family-run local company, which has been going for over 100 years, we see this not only as a flagship development for us but for the whole of Northern Ireland.
"It's very much about lifestyle and allowing retired people to keep their foot on the property ladder and retain some independence."