Homeowners told to expect 60% savings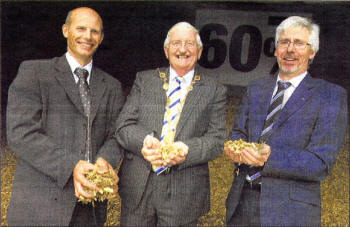 Christopher Carvill (Managing Director, The Carvill Group) with Mayor of Lisburn Mir Ronnie Crawford and Howard Roche (Vital Energy).
NORTHERN Ireland's first EcoVillage in Lisburn has been switched on.
The Carvill Group, who have been pioneers of sustainable living, have turned on their innovative biomass district heating system at the Woodbrook development.
When completed 1000 homeowners will save approximately 60% on fuel costs through the installation of A biomass heating system, the first of which was officially switched on last Friday and the environment will also benefit with a targeted 75% reduction in Carbon emissions.
Christopher Carvill , Managing Director, Carvill Group said: "We are really proud of this development and the standard of homes and life we are offering buyers.
"This heating system together with the eco homes credentials will make the Woodbrook homes the some of the most cost effective new homes to run in Northern Ireland. In this time of soaring fuel prices we feel it is not enough to just sell people homes, we want to ensure quality of life and sustainable living for all who choose to live here, at affordable prices. "We are currently monitoring heating use in the homes at Woodbrook and expect significant savings for everyone."
The £2.7m investment in the first energy centre and infrastructure will allow the heating system to provide both hot water and central heating and will be fuelled by willow wood chips, grown in Counties Down and Armagh by Green Energy Solutions.
In recent years the Carvill Group have travelled through-out Europe to find best practice in design and supply as well as undertaking an extensive research and development programme to ensure a tried and tested solution was provided. Danish expertise have now been brought in to install and manage the heating system.
Homeowners will be issued with a 'pay as you go' fuel card giving them the convenience of not having to order oil as well as the added advantage of no maintenance costs as individual house will not have boilers to be serviced.