by MARY MAGEE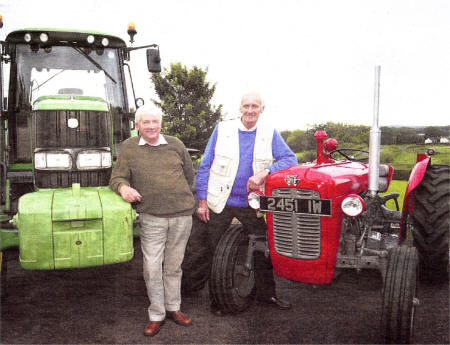 "Old and the New - Alan Ross and Michael Timmons with the tractors to be used in the road run, namely a John Deere 6920S and Massey Ferguson 35X US3508-403PM Pic by Paul Murphy
TWO Ballinderry men will be using their hobby of tractor rallying to help raise money for neighbour Alan Stitt who is going to China to have stem cell treatment for his motor neurone disease next month.
Michael Timmons and friend Alan Ross hope to raise up to £2,000 in a one off private tractor rally on Saturday.
The rally starts at 10am and it will be a ten mile journey starting at Lower Ballinderry. It will follow a route to Station Road, past Mcllroys pub to Bell's Corner back to Ballinderry again.
The event will he open to all tractors old and new, big or small. There will be light refreshments served at the end of the drive. Michael said: "I saw the article in the paper about Alan who is a neighbour of mine and I just wanted to do something to help him. I said to my wife we had to do something to help and she agreed."
It was when Michael met his friend Alan, chairperson of the Glenavy Vintage Rally Club, one day at a nearby filling station that they came up with the idea to hold a tractor rally.
"We would encourage local farmers to come out and join us," Michael said. We are doing this fundraising event on our own and it is nothing to do with the club. I thought it would be a good way of raising money quickly as I know that Alan is going away soon."
Drivers must have their own insurance and passengers will not be permitted unless on an approved seat.
Anyone who would like more information should ring Alan on 07765485060 or Michael on 0779 3325273.
Ulster Star
20/08/2008