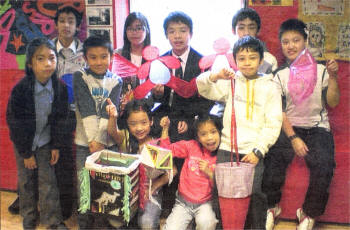 Members of the Chinese Youth Club with their lanterns
MEMBERS of Lisburn's Chinese Community have celebrated the 'Mid Autumn Festival' with the help of Lagan Valley MP Jeffrey Donaldson's wife Eleanor and their two daughters.
The three Donaldson ladies were ,judges of a lantern design competition involving members of Lisburn's Chinese Youth Club.
The judging took place at a celebratory event in Trinity Methodist Church organised by the Lisburn Chinese Ladies Group.
During this event it was explained the Mid-Autumn Festival takes place when the moon is at its fullest and brightest. At this time Chinese family members and friends gather to admire the moon and celebrate the abundance of the summer's harvest. Traditional food at this festival includes moon cakes and pomeloes. The celebration began with the legend behind the festival. This revolved around an archer called
Houyi and his wife Change, who consumed the elixir of life and floated towards the moon, hence becoming the Goddess of the moon. The lanterns judged by Mrs. Donaldson and her daughters play a special part in the celebration as legend has it lanterns will help to guide Change home when she comes back down to earth.
The event sponsored by Awards for All was deemed 'a great success' with a large number of entries.