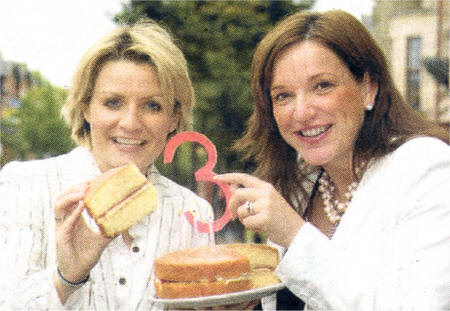 Maire Campbell, Public Affairs and Communications Manager, Coca-Cola Bottlers and Joan Burney-Keatings, Cinemagic Chief Executive celebrate the sponsorship
LAMBEG based Coca-Cola Bottlers (Ulster) Ltd and Cinemagic are celebrating the announcement of a new three year title sponsorship deal for the annual young people's film festival.
The award-winning partners have been working together since 2004 and this is the third consecutive year of the title sponsorship.
The Cinemagic Film Festival is one of the leading young people's film festivals internationally and the largest in the UK and Ireland, attracting over 20,000 each year.
Maire Campbell, Public Affairs and Communications Manager for Coca-Cola Bottlers said: "Cinemagic gives young people the opportunity to gain exciting and practical experience in many arts based disciplines. We are delighted to support the valuable work of Cinemagic and wish them every success now and in the future."
The Coca-Cola Cinemagic International Film and Television Festival For Young People launches its 2008 programme of events on September 18.