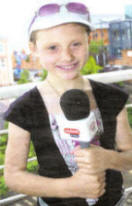 FOLLOWING months of auditions and performing live, two talented local singers have made it through to the Grand Final of the Citybeat Young Star Search competition.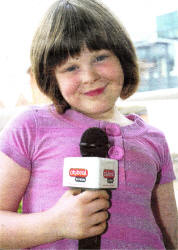 Chantelle McAteer (9) from Dromore and Fionnuala Mohan (9) from Dunmurry will compete this weekend in the competition after being selected by judges at the Victoria Square semi-final in Belfast last Saturday.
The girls won their heats in Lisburn earlier this year at the Mayor's Carnival Parade in May and at Bow Street Mall in June. Chantelle and Fionnuala will now compete against other young singers for the chance to become this year's overall winner.
An excited Chantelle said: "Everyone is so excited. The school put a congratulations poster up for me, and another good luck one for the final. My mum and dad, nanny and granda think it's great, they are all very proud of me."
Fionnuala is equally as excited. She said: "I won the Lisburn heat at Bow Street Mall a few weeks ago and since then I can hardly sleep. I just love to sing and this is the biggest thing I have ever done in my life - I can't wait to get up on stage."
The winners of the junior and senior categories will collect a selection of brilliant prizes including a summer shopping spree, easyJet flights, and the opportunity to record their very own CD single professionally produced in a state of the art recording studio.
The public can find out how to vote for the girls and see their videos by logging on to www.citybeat.co.uk.