Clamping at car park catches out young mum
by STACEY HEANEY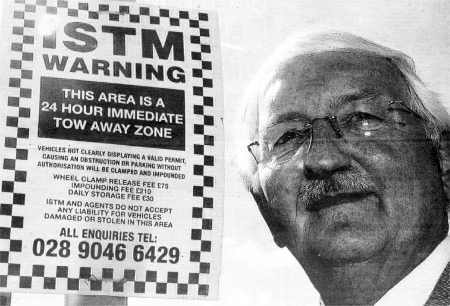 Lisburn Mayor Ronnie Crawford at the private car park near the Lisburn Library.
LISBURN Mayor, Councillor Ronnie Crawford, has appealed for "clear and unambiguous" signs to be erected at the car park near Lisburn Library after a young mum had her car clamped there last week, believing it was a public car park.
Sarah Adams, who lives in Lambeg but is originally from Ballymena, paid a visit to the library last Thursday (August 21) with her two sons, Bailey (5) and Joshua (2) to look for books and on returning to her car found she had been clamped.
Sarah, who had to pay a £75 fine to free her car, said that she thought the car park was a public facility because of its connection with the library.
She explained, "I'm from Ballymena and there the library car park is free because the library is providing a public service. The sign just says ISTM at the top, if it had said 'No Parking' I would never have parked there, I think this is absolutely disgusting."
Sarah, who intends to lodge an appeal, continued: "I earn £112 per week and have two young boys and now I have to pay £75 for a fine, that's most of my wages gone for a genuine mistake."
Mr Crawford said it was only the latest in series of complaints he had received about the car park.
"Due to the lack of I would see as clear and unambiguous signage, many people are being forced to hand over £75 to a clamping firm from Belfast" he said.
"Before the Library was built this parking facility was part of a public car park. Now two disabled spaces are reserved for patrons of the Library with the rest of the spaces reserved for permit holders, the number of whom has not yet been established. No spaces are provided for able bodied car owners using the Library."
He continued: "The fact this is a private car park needs to be clearly and unambiguously stated so that motorists are in no doubt that this is not a public car park. The current signs are totally inadequate, but obviously if everyone was aware of the threat of clamping, no one would use the car park.
"The £75 fine for clamp release, the £210 fee for impounding the vehicle and the £20 per day store-age charge are published in print which is far too small for most people to see. This entire operation has ensnared people using the public library service and who are, very often, least able to afford these swingeing penalties."
James Moffat, the owner of ISTM, said: "We are members of the British Parking Association (BPA) and we work to their rules. We are also working towards our SIA Licence which is the next stage for us.
"We take three photographs of cars parked illegally; one of the windscreen, one of the sign in the background and one of the clamp on the car. Nobody likes being clamped but we are very open and transparent in everything we do the best we can legally with regards to our clients."