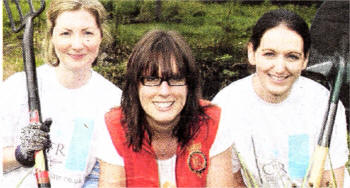 DEDICATED staff from leading law firm Cleaver Fulton Rankin (CFR) have completed a Business in the Community Cares Volunteering Challenge in Lagan Valley.
Big hearted volunteers set to work on environmental improvements in Belvoir Forest Park, part of the Lagan Valley Regional Park, on Friday August 22.
Senior partners at the law firm participated, as did other members of staff, as they cleaned out a pond and surrounding areas of the park.
Jo Boylan, Education and Volunteer Coordinator for Lagan Valley Regional Park commented: "The huge effort from CFR has completely transformed the wetland site, and it will be put to great use by school children over the coming months."
Martin Howell, Director at Business in the Community Northern Ireland, said: "In the past, employers might have organised team building days which may, for example, have simply been leisure activities.
"More and more employers now look for challenges with added value that help develop people while leaving lasting impacts on the community." For more information the Cares programme please contact Hilary Dickson on Tel: (028) 9046 0606 or email hilary.dickson@bitcni.org.uk