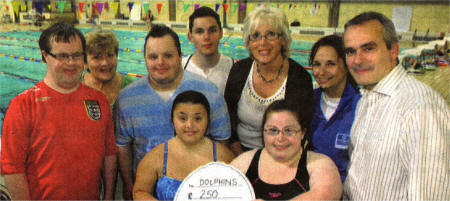 Receiving the Community Award from the director of Corus Ireland Chris Conway (right), are special athletes from the Dolphins group of the Lisburn 2gether Special Olympics, along with Chair of the group Lorraine Foster (back 3rd right) and Liz Ferguson, the Dolphins organiser.
THE Dolphins Swimming Group, part of the Lisburn 2gether Special Olympics Club, have received a Corus Community Award from the local Corus centre in Lisburn, to help their special athletes who swim and train at Lisburn Leisureplex each Tuesday evening.
Athletes
Corus Ireland Director Chris Conway, presented the Corus cheque for £250 to the Dolphins organiser Liz Ferguson, along with Lorraine Foster Chair of the Lisburn 2gether Special Olympic Group, and some of the athletes.
'Receiving the award has made a big difference to us and will help us with running costs. We are a small club who have been here in Lisburn for 17 years. We are very grateful to Corus for helping a local organisation in this way,' said Liz.
The new Corus Community Awards were set up to support projects that are working to make a difference to people who live in the local communities where a Corus business operates.
Lisburn 2gether Special Olympics Club is a local group dedicated to helping athletes in the wider Lisburn area, all of whom have a learning difficulty, to participate in organised competitive sport at area, regional, national and inter-national levels.
For more information about the Lisburn 2gether Special Olympics Dolphins Group or other sports that the group assist, contact Eilis Mulholland at Disability Network on 9266 7227.