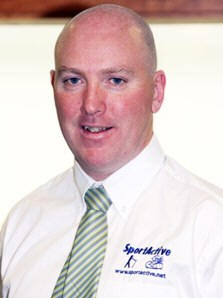 A WELL-KNOWN International racing cyclist from Lisburn has been tragically killed following a road crash outside Crumlin.
Tributes have flowed in after David McCall, 46, died when a car collided with his bike on the Belfast Road near Nutts Corner roundabout at about 8pm on Tuesday evening, during a cycle race with his club Maryland Wheelers.
Mr McCall, who worked as a Civil Servant, held a long list of honours and competed in four Commonwealth Games before setting up his company 'SportActive' which offered cycling and walking activity breaks in Europe.
Former Chairman of the Maryland Wheelers, Michael Brown, paid a warm tribute to Mr McCall whom he described as a "great person, a great club man and a great friend". Mr Brown said: "Davy brought so much to the cycling community and it's a really sad loss. He will be sadly missed. His parents Jim and Agnes and his brother and sister are in a state of shock."
Mr McCall leaves behind partner Helen and his teenage daughters Caroline and Emma.
Fellow club member Chris Scott, who was taking part in the same race, said the club was 'devastated'.
"It's hard to take in. We are all numb. Davy was a real stalwart of Maryland Wheelers and he will be greatly missed. He was a great competitor and a great motivator for many of the younger members," said Mr Scott.
Lisburn's Mayor, Councillor Ronnie Crawford said: We are deeply shocked and saddened by the untimely death of David McCall.
Not only was he well known to Council members and staff for his outstanding sporting ability, he had also supported the Council on a number of projects, including the Tour of Ireland Cycle Challenge in 2007, and the Irish Road Race in 2004.
"He also enthusiastically participated some years ago in a Civic sporting exchange between Lisburn and Kilmarnock in Scotland. Our thoughts and prayers are with his family at this time."
MLA for the Crumlin area Mr Thomas Burns it as "another awful tragic accident".
Mr Burns extended his sympathy to Mr McCall's family: "My sympathies and prayers are with his parents and family."
The funeral is to be held at Seymour Street, Methodist in Lisburn on Saturday at 11.00am.