by NEIL GREENLEES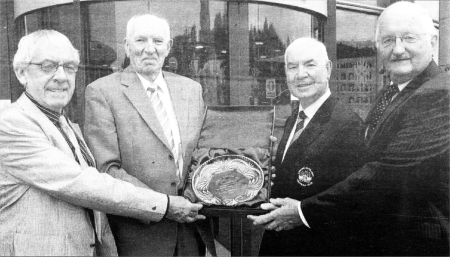 The Mayor, Councillor Ronnie Crawford and Alderman Ivan Davis present Denis Shephard Crewe United President and Chairman Tom McKenna with a plaque. US2508-505C0
THE President of Crewe United Football Club has said its involvement in important community initiatives is just as important as the soccer played by its members.
Mr. Dennis Shephard, who was speaking at a function to mark his 25th year in the position, highlighted the 'torch of hope project which Crewe began in 1994 in conjunction with Warrington Council.
The aim of this project, he explained, was to use sport as a means of promoting a more positive image of Northern Ireland.
"We have always placed great emphasis on this partnership and we always look forward to guests from Warrington coming to our formal dinner dance," he added.
Warm tributes were paid to Mr. Shephard, who became President after the sad death of his father Joe in 1982.
A presentation was made by Alderman Ivan Davis and then Deputy Mayor Councillor Ronnie Crawford who has now become the City's First Citizen.
Mr. Davis said he had a long association with the Club and was delighted to be involved in making the presentation to such a "dedicated and faithful servant.
"He presided over the Club with the intention of developing and fostering community relations not only in the province but further afield. The Warrington Project bore testimony to this," he added.
Mr. Crawford said he was pleased to be involved with the presentation.
He spoke of the progress being made by Crewe and said the new football pitch was 'clear evidence' of how the Club saw its future.