by JENNY MONROE
Restaurant is taking practical steps to help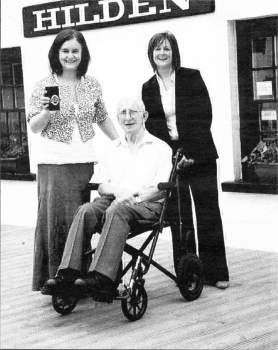 HILDEN Brewery has improved its access to its Tap Room restaurant for people with disabilities - and is to help raise funds for Disability Action.
The Scullion Family, who own Hilden Brewery and its adjoining Tap Room Restaurant, have been working with Disability Action to improve the accessibility of the restaurant, which includes the provision of a new ramp at the entrance. Further improvements to the establishment are also planned to include accessible toilets.
Restaurant Manager Frances Maguire said: "We had made some provision for access in the past but felt that we could improve on this. By working in consultation with Disability Action we have been able to implement some changes, with very little disruption to the restaurant and Brewery, and make our services more accessible to people with disabilities."
Hilden have chosen Disability Action as their nominated charity for this year's Hilden Beer & Music Festival which runs from Friday 22-24th August.
The weekend-long event will consist of live music from more than 13 local bands in the Brewery's historic courtyard, singer songwriter and traditional sessions in the Tap Room Restaurant and face-paint- ing and other fun activities for the kids. A sumptuous bbq will be served throughout and more than 30 international beers on offer including 10 of Hilden's own brews A full beer listcan be viewed at www.taproomhilden.com. Tickets are priced from ,5-10 per person and are available from Ticketmaster or directly from Brewery.
Eamonn Donaghy, Head of Business at Disability Action commented: "We are delighted to be working with Hilden Brewery and are pleased that they have chosen us as their Charity of the Year for the Hilden Beer and Music Festival.
"By improving access for disabled people we hope that even more people will be able to enjoy this unique event."