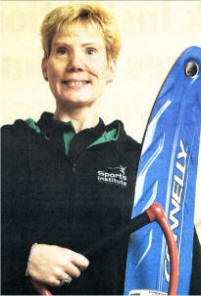 LISBURN'S sporting heroine Dr. Janet Gray has said she is "honoured and privileged" after the City Council voted to give her the freedom of the city.
Janet was informed on Tuesday by Alderman Edwin Poots that he would be putting the proposal forward for the World Champion blind waterskier to be made a freeperson of Lisburn.
Janet, who has recently returned from the European Disabled Waterski Championships in Recetto, Italy, where she picked up a team Gold medal, despite being rescued from a fire at her hotel before the event, said the honour had "just come out of the blue."
Janet said: "Edwin phoned me to say he was putting the motion forward for me to be given the freedom of the city. I was really surprised and absolutely delighted.
"This is a tremendous honour and it came at a lovely time, I've had a rough few weeks with everything that happened in Italy, but this is such an honour and I am very privileged.
"I think there will be a ceremony in the spring," continued Janet. "This is a very old custom that goes way back, I'm not fully sure what it means in modern terms but it is the highest honour you can receive within the city, it is right up there with the Doctorate and the MBE for me." Making the proposal to the City Council, Deputy Mayor Alderman Edwin Poots said Dr. Gray had made vital contributions to her sport. He also pointed out her last triumph at the World Championships in 2007 came just three years after a horrific accident which left her struggling with extensive injuries.
She has been a great ambassador for sport, disability and Northern Ireland, as well as her own City of Lisburn and has demonstrated huge courage and commitment where others would have given up," he added. It is a great honour for the council to be able to award her the Freedom of the City, and to recognise her achievements in such a way."
His proposal was seconded by Alderman Ivan Davis who said he was 'delighted' to do so.
Dr. Gray has won the World Disabled Championship in three disciplines. She is the world record holder in all three and was World Champion in 1999, 2001 and 2003. Her strength and determination were evident following her 2004 accident.
Doctors were highly sceptical about her chances of ever walking again but after three long, painful years of intensive rehabilitation and numerous operations she stunned the sports world by donning her water-skis and taking first place at the 2007 World Disabled Championships in Townsville, Australia.