by Kathryn Catney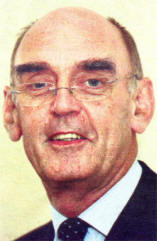 DUNMURRY GP Dr. John White, who is President of the Ulster Medical Society, has published an article detailing the history of infection and the set-up of dispensaries around the Lisburn area in the 19th century. Dr. White used the article which appears in the September edition of the Ulster Medical Journal as his presidential address to the Society last Autumn.
Entitled 'Infection in a village community in the 19th Century and the development of the dispensary system' it explores the epidemic diseases prevalent in Lisburn at the time, including Cholera, Smallpox, Typhoid and Tuberculosis. It also details the procedures set in place to combat their spread.
The article makes use of the parish death registers from the Lisburn area and examines disease outbreaks throughout the period 1800 to 1900.
It gives a detailed account of the numbers infected and subsequent deaths. It also delves into the changes in legislation and the establishment of local infirmaries and dispensaries, including the Dunmurry Surgery where Dr White currently works.
The GP has been a member of the Ulster Medical Society since 1972, an organisation with over 700 members.
It was founded in 1862 through an amalgamation between the Belfast Medical Society and the Belfast Clinical and Pathological Society. Its objective is to improve the care of the sick by developing the education and knowledge of all concerned in medical matters.
Dr. White was elected President on October 10 last year and described the experience as "a great honour and a surprise.
"It came out of the blue and I had to consider if I would be fit to take the position," he said. "The main role of the president is to set-up an academic programme over the course of the year for the society."
Dr. White's article keeps in line with the objectives of the society as it explores the improvement of care of the sick at a time in Ireland when the health system was just emerging.
The GP was born in Dunmurry and has lived in the area all his life.
He graduated as a doctor from Queens University in 1970 and began work at his family run practice, The Hill Surgery, in 1974.
His uncle and namesake, J.B. White was the dispensary doctor back in 1927 and there has been a Dr White in the Dunmurry Surgery ever since.
His older brother, Dr Dennis White also practices at the award winning surgery and was Provost of the Royal College of General Practitioners.
Dr White's enthusiasm in history, fuelled by the collection of medical books and supplies begun by his uncle in 1927 led to his investigation into diseases and the health care system in the Lisburn area.