| | |
| --- | --- |
| | |
| Philip Hill, Martine Hanna, Steven McCormick, Julie Watson, Janet Traub and Stephen Bogle enjoy a fun and entertaining evening of greyhound racing at Drumbo Park. | Ross Maize, Catherine Maize, Laura Gormley and Luke Maize relax at Drumbo Park, Northern Ireland's new night out |
DRUMBO PARK, Northern Ireland's new greyhound racing stadium, opened for business last Thursday following a £3 million investment by local businessmen.
The state of the art complex is at Lisburn Distillery's ground at Ballyskeagh and replaces what used to be the Ballyskeagh dog track.
Drumbo Park employs 120 full time and part time staff and no expense has been spared in bringing greyhound racing in Northern Ireland into the twenty-first century as the venue boasts one hundred plasma television screens, tote booths and bookies stalls, licensed restaurant facilities and a bistro fronted by panoramic views of the track.
There will be races every Thursday, Friday and Saturday evening and the venue will also be showing live racing coverage from two of Ireland's leading tracks, Shelbourne Park and Harold's Cross. Newcomers to the sport will also be welcomed as the venue will be available for hosting corporate entertainment, social gatherings and parties, or sporting club outings.
Chief Executive John McCollum said: "I am thrilled Drumbo Park is now open for business, especially as this project has taken some years to come to fruition. I am confident it is poised to play a very significant role as a sporting and social venue for Thursday, Friday and Saturday nights in Northern Ireland."
Brandywell stadium was the only greyhound stadium left in Northern Ireland before Drumbo Park opened, but the situation is vastly different in the Republic of Ireland where the re-branding of greyhound racing as a social event has led to new stadia being developed at Shelbourne Park, Harold's Cross, Cork, Galway, Tralee, Lifford, Dundalk, Mullinger and Thurles while major developments are planned for Limerick, Kilkenny, Clonmel and Youghal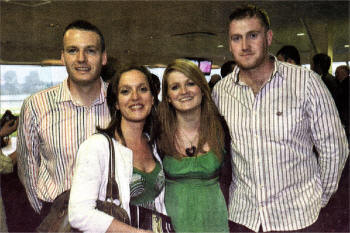 Gary Campbell, Olivia Jackson, Leanne Jones and Colin Anderson from Hillsborough hope to back a few winners at Drumbo Park