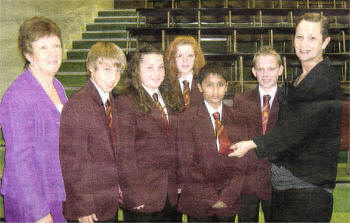 A SPECIAL year has begun at Dunmurry High School, with the new year 8 students proudly displaying the new school tie, which had been introduced to mark the school's 40th anniversary.
Established in 1968 the school has been a key provider of education in the Lisburn and Belfast area.
The school has long been acknowledged for its educational initiatives are is recognised for meeting the needs of all of its students while at the same time ensuring it plays a prominent central role in the community. Mrs Tina Corken, the fourth Principal in the history of the school, said: "The outstanding achievements of our students in both academic and vocational courses continues to make me very proud to be associated with the school."
A programme of events has been planned to celebrate the special anniversary. Outstanding musical productions have long been associatied with Dunmurry High and on November 18 and 19 Joseph and his Amazing Technicolor Dreamcoat will be performed followed by a Christmas Service of Thanksgiving on December 17. A stall reunion is planned for March 27, 2009 and the school will host an 'open house' on the evening of June 17, 2009. Former students and their families and current students will be able to take a nostalgic stroll through the school, view photographic exhibitions, participate in activities and enjoy a BBQ.
Mrs Corken added: "We anticipate that there will be a lot of interest in these events.
More details are available by contacting the school on 9062 2828.
"We would also like to make our archives available to any class or year group who are considering holding a reunion. We would be very interested to hear about these."