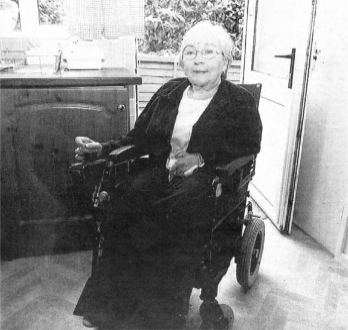 Lisburn woman Esther Hewitt. Esther received a new electric wheelchair but is not supposed to go outside in it - even into her garden - until she receives training on how to operate the wheelchair safety.
A DISABLED woman is to write to the Human Rights Commission asking it to investigate why she has been trapped in her Lisburn home for months while waiting for the go ahead to use her new wheelchair outside.
Esther Hewitt (61) has been told it will be March 2009 before an assessment can be made on her electric wheelchair so she can use it outside.
The problem arose last September when Esther's new electric wheelchair was ordered through the Belfast Health and Social Care Trust. She waited many months before it was delivered to her in February.
But while she was told she could use it inside she would not be allowed to use it outside until she had a two hour medical assessment and training in its safe use. Esther said that as a result she has been unable to go shopping or visit friends. She fears that should she attempt to take the wheelchair outside it could be taken from her.
"I do not think that anyone training me would be as competent in an electric wheelchair as I am after 20 years," she said.
Esther, who lives alone, has spent most of her life in a wheelchair. At the age of three she lost the use of both her arms and legs after getting polio.
"I understand that my life is affected because I am in a wheelchair and there are limits in what
I can do," she said. "I accept that, but this limits me further and I have not been able to get out from my garden for many many months."
She said she is now having to do her shopping online and could not even visit family and friends at Christmas.
"To go outside is a basic human need and I am being deprived of that. Even convicted criminals get fresh air so why not me? It is not just a psychological need but a health need.
"I have a great network of friends and family but this is a very solitary experience."
Esther's brother wrote to the health minister but has still not got what he regards as a satisfactory answer. He was told that additional funding has been made available to improve wheelchair services.
"I just feel exhausted and indignant," Esther said. This has just really upset me, but if there is a waiting list for this type of service then I am not the only person in this situation."
A spokesperson for Disability Action said it was 'ridiculous' that somebody should have to wait so long for a piece of equipment that was vital to them.
They said that it went against everything the government has said and the ultimate responsibility as it lies with the Department of Health and the minister should be looking into the matter.