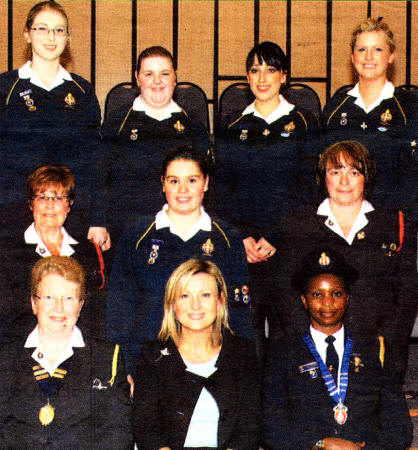 At the Queen's Award Presentations are:- Front, L-R: Morva Brown, GBNI President, Lynda Bryans, GBNI Patron, Ruth Chikasa, GB International President, Middle: Anne Russell, Captain Kilmakee GB, Sarah Anne Petrie Kilmakee GB, Alison Stevenson, Captain St Paul's GB. Back: Rachel Dickson, Sarah King, from Kilmakee GB, Lauren Mulholland and Laura Strain from St Paul's GB.
FIVE Lisburn Girls have received a top international award from the Girls' Brigade.
GB Northern Ireland this year awarded 64 girls from across the province with The Queen's Award at a ceremony in Belfast. Included in the line up were Rachel Dickson, Sarah King and Sarah Anne Petrie from Kilmakee GB along with Lauren Mulholland and Laura Strain from St Paul's GB.
The Queen's Award is the highest attainable in GB and was presented by Girls' Brigade patron Lynda Bryans.
To gain the Queen's Award the girls had to complete a two year period of work which included community service, two initiative tests, service within GB, a written test paper on Girls' Brigade knowledge and a final interview with GBNI officials.
This year, one of the initiative tests was to fundraise to aid a charity of the girls' own choice. In total just over £11,000 was raised for various charities by the group of award recipients. In addition some accepted the challenge of learning to knit - producing tiny cardigans for premature babies.
A beautiful basket of 50 newly knit cardigans was presented on the evening to Heather Kyle, Clinical Midwife Manager, Intranatal Services, Royal Jubilee Maternity Service.
The evening was part of a weekend of special events to mark the visit from Zambia of the International Girls' Brigade President, Mrs Ruth Chikasa.
She was elected at an international GB conference in Coleraine in 2006 and in addition to her GB duties, Ruth currently works full time for the Dreyfus Health Foundation as Regional Director for Africa. This organisation works with local communities to help them believe that they can find solutions to their health problems from within their communities. She is a trained business administrator who has served senior government and business leaders in Zambia and serves as Vice Chairperson for the African HIV & AIDS advocacy network of religious leaders. On top of that she is an elder in her church, supports her husband in his full time church work and is a mother to two teenagers.