Lisburn mayor Ronnie Crawford; Eric Jess, chairman of Harry Ferguson Celebration Committee; ClIr Allan Ewart, Cllr Jenny Palmer, and John Sherlock,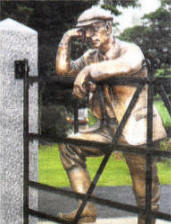 DESPITE severe weather conditions, visitors from across the globe descended on the birthplace of Harry Ferguson to witness the official opening of the Harry Ferguson Memorial Gardens last weekend.
Local residents and visitors have been looking forward to the day they could celebrate a long-lasting memorial to remember the inventions of the local hero who transformed how work on a farm was carried out.
The launch of the Gardens was funded by Lisburn City Council, Department of Agriculture and Rural Development (European Union), the Midlands group and the Harry Ferguson Celebration Committee.
The memorial include landscaped gardens (due for completion in September 2008) as well as information boards and seating. The centre-piece is the life size bronze sculpture of Harry Ferguson officially unveiled on Saturday by Harry Ferguson's granddaughter, Sally Fleming who flew in from London.
Despite the torrential rain thousands of people turned up to the launch and to participate in the Harry Ferguson Celebration Day. This annual event and tractor exhibition showcased some 450 tractors from vintage old time classics to modern state of the art models.
| | |
| --- | --- |
| | |
| Tractors driving through the rain at the Ferguson Day. US3408_504cd | Bill Forsythe, from Lisburn, one of the organisers, and Harry Ferguson's granddaughter, Sally Fleming, at the Ferguson Day on Saturday. US3408_510cd |
The Harry Ferguson Memorial Gardens will now be open to the public between dawn and dusk with events staged on site from time to time. It is hoped that further work will continue the Harry Ferguson legacy including a self guided driving trail, information leaflets and website.
2009 also marks the 100th anniversary of powered flight in Ireland when Harry Ferguson first flew his monoplane at Hillsborough Park some 130 yards.