Hilden was integrated before anyone even knew what that meant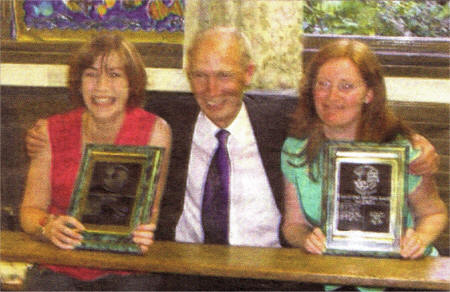 Mrs Carol Duffy and Mrs Sharon Curran receiving the Tom Conway Memorial Awards from Terry Conway
THE final presentation of awards at Hilden Integrated Primary School took place following the recent summer concert.
It was one of the last events at the school which has closed for the last time after 95 years.
Mr Terry Conway, Chairman of the Board of Governors, Mr William Gourley Principal, and Mrs Sharon Curran Key Stage 1 teacher made the presentations.
Mr Gourley paid tribute to the award winners and thanked everyone who had contributed to their success. He also made a special presentation to Mr Conway and expressed the appreciation of the school for his work as Chairman and all his endeavours to retain Hilden School.
In his concluding address Mr Conway spoke of how special Hilden was as part of the model village pioneered by the Barbour family. Reading extracts from a Linen Thread Co book, Mr Conway referred to the recognition by the Mill founder that human values are all important in any stable and successful enterprise.
Mr Conway explained how Hilden Primary School had "promoted genuine community integration" and criticised the decision to close the school as "socially and morally unjustifiable".
He talked about how the school had played an important role in advancing stability in the community and referred to the "remarkable ethos that had been passed down through generations by the Principals".
Mr Conway went on to mention the excellent support team including Mandy Smith, Nicola Davidson, Kate Hunter, Gillian Gowdy and the various assistants who had played a vital role in the operation of the school.
He said that everyone had shown exceptional dedication, especially over the roller coaster ride of the past three years. During that period the school continued to provide quality education.
Mrs Carol Duffy and Mrs Sharon Curran had taught at the school for ten years and both had shown great fortitude under difficult circumstances to maintain high standards.
As a mark of his appreciation Mr Conway presented the Tom Conway Memorial Awards to Carol and Sharon as the final recipients for outstanding service to Hilden Integrated Primary School.
The presentations ended with the Hilden PTA presenting Mr Gourley, staff and assistants with gifts. Framed colour prints of the school are still available for purchase.
Awards were presented to: Abbey Mc Alonan (Football), Matthew Duffy (Beverly Richardson Memorial Award for Key Stage 1 Sports), Ryan Bloomfield (Barton Shield Key Stage 2 Sports), Rebecca Morton (Swimming Trophy), and Zoe Alister (Millenium Integration Shield).