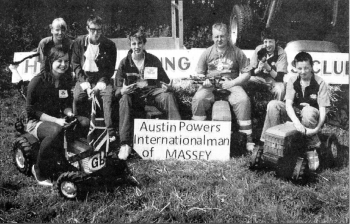 L-R: Shannen Irwin, David Simpson, Andrew Simpson, Ross Irwin and Alex Sleator. On Tractors: Rosie Curry and Mark Simpson. Photograph by Robert Preshaw
THE Hillhall Young Farmers enjoyed their first County Down YFC Rally Day since the club reformed in 2005. On June 28 clubs from all over County Down travelled to Donaghadee Rugby Club to take part in different challenges and events. Every year Rally Day gives members the opportunity to make new friends, and meet up with old ones.
The day's theme was the Carry On films and the number of events they took part in included pitching a tent, building and sailing a
toy boat, competing in a memory game, milking a "cow", playing Operation and identifying scenes from different Carry On films.
Part of the day involved producing a short slideshow and Hillhall's allocated film was Carry On Spying.
Members of the club wrote and starred in a short sketch about a spy who likes to carry on with tractors and it was aptly named 'Austin Powers in International Man of Masseys'.
Hillhall members invested some time prior to Rally Day modifying a pedal tractor for the Pedal Tractor Competition.
Handlebars, flags and racing stripes were just some modifications made and David Simpson, Andrew Simpson and Alex Sleator raced for Hillhall, giving a fantastic performance for their club.
The team also became third overall in all the Rally Challenges and first in the Carry On Parade.
Afterwards a dance was held in the rugby clubhouse.