Local firm sets up ID card scheme for supporters club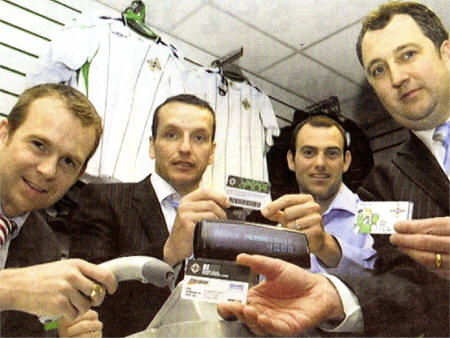 Celebrating the completion of the card service are (left to right) Geoff Wilson, IFA; Stephen Brown, NTD; Jonathan McMeekin, IFA and Andy Roberts, Payne Security.
WHEN the Irish Football Association needed new personal ID cards for all the members of its Adult and Junior Supporters Schemes, it turned to Lisburn-based company North Time & Data. The cards are being issued ahead of the IFA's World Cup 2010 qualifying campaign, providing members with a range of benefits.
The IFA has been working with North Time & Data since 2005 and turned to them to develop and mass-produce the ID cards.
The Ballinderry Road based company worked with Payne Security, a leading UK company specialising in the production of personalised, secure and branded ID cards on the project.
Over 3000 cards have already been produced at Payne Security's facility in Mold, North.
They include a barcode on the reverse and the cards were then posted directly to members, offering the IFA a hassle-free solution.
"The support by North Time and Data during the transition period has been first class, and has saved us at the IFA a lot of time and resource," said Jonny McMeekin, Database Manager at the IFA, who provided all data for the production of the cards.
Stephen Brown of North Time & Data said they were delighted to be involved in such a prestigious scheme —"especially when it means supporting Northern Ireland's World Cup bid
"The job went smoothly with Payne Security's help, and the result is a highly professional, modern looking, useful membership card for supporters"
Geoff Wilson Head of Marketing and Communications at the IFA added: "Membership and Loyalty schemes have been very popular especially, in the football arena, and we hope to continue to develop our relationship with North Time and Data as our membership scheme increases in numbers."