JLS ready to fight for X Factor future
by STACEY HEANEY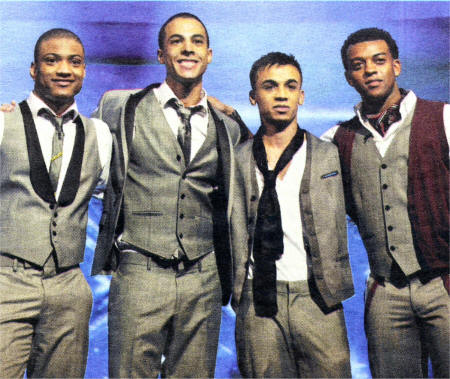 JLS following their performance of Take That's A Million Love Songs on last week's show.
ASTON Merrygold has said that JLS are ready to fight for their X Factor future after surviving being in the bottom two on last week's show. The four-piece group joined fellow contestant Rachel Hylton in the final sing-off after the two acts received the least amount of public votes.
Despite a wonderful performance of Take That's A Million Love Songs, JLS found themselves in the sing-off, perhaps hindered by row during the show between their mentor Louis Walsh and Rachel' mentor Dannii Minogue. However a unique performance of Ben Ii King s Stand By Me/Seal Kingston's Beautiful Girls saw them saved by the judges.
Aston, whose family are originally from Dunmurry, admitted that he was shocked the group were in the bottom two, but that he and the band are more determined than ever to keep their X Factor dream alive.
It is a little bit hard to get into the swing of things this week," he said "We are still very lucky to be here and this gives us a bit more fight." The group will this week take on two songs, one Britney Spears
song, with the star herself going to be appearing on the show, and one American classic.
Aston added: "The American classic will be in our comfort zone. Of all the weeks we have had on the show, this is the week we can shine so that adds a bit more pressure.
"To be honest, I'm gutted we were in the bottom two, but before our sing-off song we just wanted to treat it like it was the last time and thankfully it wasn't.
"There was a weird atmosphere on Saturday with the tears from Dannii and Louis is very passionate about the song we didn't get.
"Now we need to do the best we can," he said.
JLS had originally intended to sing Rule The World, during Take That week, however, following Dannii's choice of the song they began practising Back For Good. It wasn't until 24 hours before the show on Saturday that the song was changed to A Million Love Songs.
Aston explained: "We were supposed to do Back For Good and it wasn't until Friday at 7pm that we had to change the song. It just wasn't working and it was a big risk, we could rehearse a song that had the potential to be good or rehearse a song that had the potential to be great. We thought it turned out well so it was shocking to be in the bottom two, but if there was any time to be in the bottom two and get through it was last week.
"It just lets people know that we are not safe and people have to vote for JLS, we need the votes now more than ever. We're just taking it one week at a time."
This week's show will take on a different format, with the act that receives the lowest public votes simply being eliminated rather than the decision going to a sing-off.
The boys impressed the audience last week with their original remix of two song's for the sing-off song, and Aston admitted that they had come up with the song by accident.
That was ours we made a long time ago, one of the boys, Marvin, was playing the piano and it was done by accident. It turned into one of our favourites. Because it's the sing-off for survival everyone wants to sing a ballad to show off their vocals but we could do that all day long, we wanted to show a different side of ourselves."
With just five acts left in the contest and only two weeks left before the final, Aston knows that votes for the group are needed now more than ever.
"We hope that everyone will keep watching and keep voting for JLS, now more than ever."
In a special thank you to Ulster Star readers for supporting JLS throughout the show, Aston's grandmother Kathleen Chambers said: "No matter what the outcome will be on X Factor, we feel that Aston already is a winner. So sincere thanks to all the readers for all their votes so far."