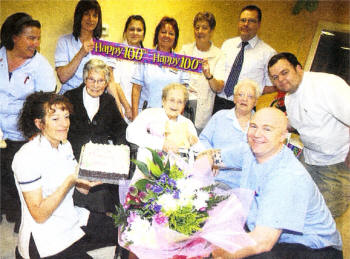 Jane Harper celebrating her 100th birthday at Kingsway Nursing Home last Friday. US3108-101A0 Picture By: Aidan O'Reilly
A WOMAN who was 100 years young last week has revealed her secret to a long and healthy life.
Jane Harper, 'granny' and resident of Kingsway Nursing Home in Dunmurry, has never drunk alcohol or smoked and loves attending church - the recipe she believes for a long and fulfilling life.
Her birthday was celebrated at the home on Friday when she was joined by family and friends.
Born on July 18, 1908 lane was brought up at Windsor Street off Great Victoria Street, and during her working life worked as a weaver with the Ulster Weavers and at Murrays tobacco, Belfast.
Married
Jane, who has one son, four grandchildren and four great grandchildren married her husband James in 1943. James sadly passed away in 1989.