by NEIL GREENLEES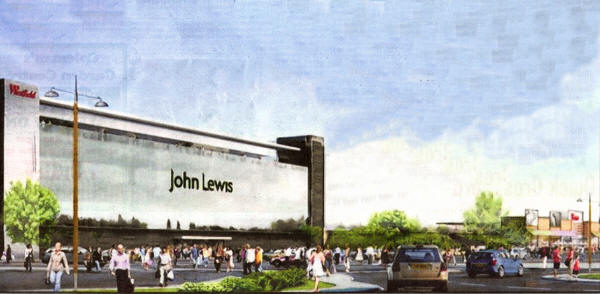 £150m scheme to bring 2,000 jobs,
Number of extra units is reduced to 19

Call for an immediate public inquiry
Crucial this new application is progressed as quick as possible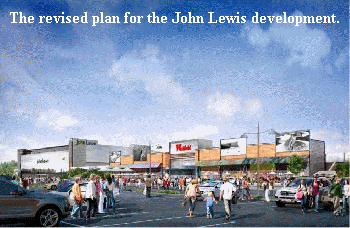 A NEW planning application for a £150 million development anchored by John Lewis at Sprucefield has been lodged with a request by the developers for an immediate public inquiry.
The scheme, which would generate a total of 2000 new jobs including 700 in John Lewis and 500 during the construction phase, includes 19 additional units - 10 fewer than the original application.
The developers say the plans reflect 'feedback' on previous proposals for the complex which provoked a campaign of legal challenges from traders in Lisburn, Belfast, Craigavon and Banbridge lasting several years.
The revised scheme by Westfield and Snoddons features a John Lewis department store linked to a single level mall of 19 units.
Westfield now intends to apply for a public inquiry under Article 31 of the Planning Order in a bid to expedite the matter.
The company's Development Director Steven Hassel said it was 'committed to delivering the Sprucefield development' and the "substantial economic and social benefits the scheme will bring to the people of Northern Ireland. "Ths project has been subject to serious delay. It is a scheme of regional significance in Northern Ireland and we believe that a public inquiry should be held as soon as possible so that the community and economy can benefit from the enhanced retail offer provided by the scheme and the 2,000 jobs that will be created," he said.
"The involvement of John Lewis shows huge confidence in the future of shopping in Northern Ireland. Consumers should be encouraged that we continue to receive considerable interest from other leading retailers keen to open at Sprucefield.
"We urge the authorities to expedite, without delay, a public inquiry so that the benefits this scheme will bring to Northern Ireland, as ari investment and amenity, can be realised as soon as possible."
Sam Harris, Director of Snoddons Construction Ltd, said they were looking forward to taking the scheme forward subject to planning approval.
The revised proposals are a reflection of the feedback received in the previous application and, together with Westfield we have worked hard to reflect the requirements of the community," he said.
"The crucial aspect now is to progress this application as quickly as possible, via a public inquiry, which will ensure that the benefits this scheme will bring not only to Lisburn but to Northern Ireland as a whole in terms of employment and retail offer, can be realised as quickly as possible."
Gareth Thomas, John Lewis's Director of Retail Design and Development said the firm was 'extremely confident' in both the Sprucefield proposals and the future of retailing in Northern Ireland in general.
"We hope to offer an unrivalled customer service and outstanding choice and value for our customers. Our co-ownership business model sets us apart from our competitors and we are looking forward to the opportunity to bring the John Lewis Partnership to Northern Ireland for the first time."
Lewis in £40m pledge for Sprucefied development
JOHN Lewis has pledged £40m in support of Westfield's revised planning application submission.
Gareth Thomas, Director, Retail Design and Development, said:
"This represents a £40million investment by John Lewis and is backed by robust research showing Sprucefield to be the only location 'in Northern Ireland capable of supporting a full range John Lewis department store and from which we can run a long-term, successful and viable business.

We are very pleased Westfield has submitted a revised planning application for its scheme at Sprucefield. We understand that the new submission addresses the substantive issues raised about the overall scheme following the previous application, including considerably reducing the number of retail units..

The proposed 3.5 floor layout will offer an assortment of more than 350,000 lines of homeware, giftware, electrical items and fashion brands and a much greater choice than any other retailer.

Our opening at Sprucefield will create over 700 new jobs, with each employee becoming a John Lewis Partner and sharing in the business' profits. In 2008 the Partnership distributed over £181million in bonus alone to our 69,000 partners."
---
Mayor demands Lewis receive the same treatment as IKEA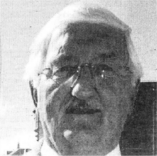 THE MAYOR Councillor Ronnie Crawford has demanded the Sprucefield John Lewis application receives the same treatment from planners as the application by IKEA to open a store at Hollywood Exchange.
Mr. Crawford pointed out the IKEA application had been processed in just eight months while it was now four years and three months since the first Lewis application had been lodged.
Every day this application is delayed is costing the city of Lisburn money and we must keep on top of this application until it is approved," he added.
Mr. Crawford also said there was a need to look at 'enhancing transport links' to allow the expanded Sprucefield to benefit-the city centre. "This is an exciting development and John Lewis are to be commended for their extraordinary forebearance " he added.
---
Store plans were first announced 4 years ago
JOHN Lewis first announced its intention to- open a store at Sprucefield in 2004 and set a deadline of December of that year for securing planning permission.
Approval for the development was initially granted by the then Environment Minister Lord Rooker in 2005.
This was overturned by the High Court following representations by traders in Belfast and Lisburn.
Lord Rooker's successor David Cairns gave the project the green light - one of his last acts as a direct rule minister before the Assembly was reconvened.
However, this was again challenged in the courts after it emerged senior officials in the Planning Service had recommended refusal for the development.
Westfield and their co-developer Snoddons then withdrew their £150 million proposal saying it was to be reviewed. The new proposals unveiled yesterday are the result of the review. A major stumbling block has always been the mall attached to the store. Lisburn retailers have stressed they would welcome John Lewis, but not the other units.
---
Donaldson in plea to objectors

LAGAN VALLEY MP Jeffrey Donaldson has urged those opposed to the original John Lewis proposals to withdraw their objections.
He warned if the scheme did not go ahead thousands of shoppers would flock to Dublin where the company is already committed to opening two new stores - one in O'Connell Street and another at the Dundrum Centre.
The MP also warned John Lewis had the option of opening a third store to the north of Dublin and would proceed with this scheme if the revised Sprucefield application proved unsuccessful. This scenario, he said, would result in Northern Ireland losing hundreds of jobs an millions of pounds of investment.
Mr. Donaldson also spoke about the issue at Tuesday evening's council meeting when he pointed out road links with the Dublin area were rapidly improving.
He predicted in the future shoppers from Lisburn would be able to reach John Lewis stores in Dublin region in just over an hour.