by NEIL GREENLEES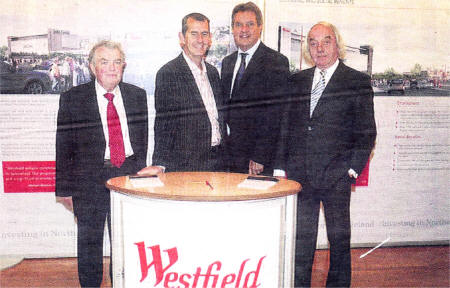 Mervyn Snoddon of Snoddon's, MLA Edwin Poots, Steven Hassel of Westfield and Brian Snoddon of Snoddon's pictured at Westfield's Public Information day at Lisburn Museum. US3508-125A0
DEVELOPERS Westfield say their proposed John Lewis complex could be up and running by summer 2011 if it receives the same treatment from planners as the IKEA store at Hollywood Exchange.
Westfield, who staged a public exhibition of their plans at Lisburn Museum earlier this week, have called for a speedy full public inquiry into the project which they say will create around 2000 new jobs.
They told last week's launch of the revised proposals work started on the IKEA outlet eight months after the Swedish firm first sought permission to proceed.
The same timescale, they said, would allow work to begin at Sprucefield around May with completion two years later.
The developers made it clear they believed their proposed development would plug a gap in the Northern Ireland market through which a 'fair amount of retail leakage was occurring' to both the Republic and the rest of the UK.
This gap, they said, was created by the provinces lack of a 'full line' department store and would be filled by the construction of a John Lewis.
They also made it clear they felt objectors to the scheme were acting out of short sighted selfish interests.
The company's Development Director Steven Hassel said the firm was committed to delivering the Sprucefield development and the "substantial economic and social benefits it would bring to Northern Ireland.
"This project has been subject to serious delay. It is a scheme of regional significance in Northern Ireland and we believe a public enquiry should be held
as soon as possible so the community and economy can benefit from the enhanced retail offer provided by the scheme and the 2000 jobs that will be created," he continued.
Mr. Hassel said the involvement of John Lewis showed huge confidence in the future of shopping in Northern Ireland.
"Consumers should be encouraged we continue to receive considerable interest from other leading retailers keen to open at Sprucefield," he added.
The Director of Snoddons Construction, the firm responsible for constructing the complex if it receives the green light, said they were looking forward to taking the scheme forward.
Mr. Sam Harris said the revised proposals were 'a reflection of the feedback received in the previous application' and they had worked hard along with Westfield to "reflect the requirements of the community.
"The crucial aspect now is to progress this application as quickly as possible via a public inquiry which will ensure the benefits it will bring not only to Lisburn but to Northern Ireland as a whole in terms of retail offer and employment can be realised as soon as possible," he added.
---
Sprucefield or nowhere insists company boss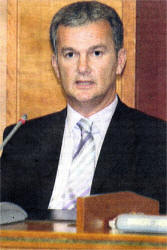 JOHN Lewis, the firm which has 'never knowingly undersold' certainly didn't undersell itself as the wraps were taken off developer Westfield's revised proposals to locate one of its stores at Sprucefield.
The number of adjoining retail units in the plans may have been reduced; the layout of the John Lewis store may also have changed but the message from its Director of Retail Design and Development Gareth Thomas remained the same - John Lewis offers a quality of retail experience not currently available in Northern Ireland and Sprucefield is the only location in Northern Ireland suitable for one of its stores. No John Lewis store at Sprucefield means no John Lewis store in Northern Ireland.
Mr. Thomas said his company's stores were 'very big in scale' and all its research showed Sprucefield was the best location in the province for its unique operating model.
He said this would place the store within one hour's drive of much of the province's population of 1.7 million people as well as between 200,000 and 250,000 people in the north of the Republic.
"If we cannot open at Sprucefield we will not be coming to Northern Ireland. Belfast does not provide an alternative to us because of our operating model," he added.
Mr. Thomas also said his company's stock of more than 350,000 lines including everything from fitted kitchens to sewing needles meant it offered a much greater choice of homeware, giftware, electrical items and fashion brands than any other retailer.
Partner
On the employment front, he said the proposed store would create more than 700 jobs with each employee becoming a John Lewis partner.
In 2008, he added, the company divided £181 million in bonus to its 69,000 partners.
The new plans have involved a change of layout for the proposed John Lewis store. This was originally to be located on two floors with a total retail space of 240,000 square feet. The square footage will remain the same but the plans now involve a store covering three and a half floors.
Mr. Thomas made it clear his company preferred this layout which he said had been agreed following a period of consultation with Westfield.
John Lewis currently operates 26 department stores across the UK. It also owns 191 Waitrose supermarkets and 'Greenbee' a new direct services company.
Ulster Star
05/09/2008