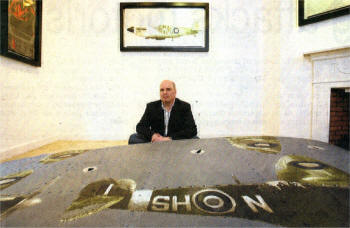 Jonathan Aiken with the Spitfire wing.
PASSERS-BY could be forgiven for thinking they had travelled back to 1945 or stumbled upon an historic excavation, as an iconic, elliptical spitfire wing entered Gormley's Fine Art gallery in Dublin's South Frederick Street last week.
However, Lisburn born artist Jonathan Aiken has chosen the 10ft x 4ft wing as one of the subjects of his much-anticipated `Legends' exhibition which is running until 24 July at Gormley's.
The aeroplane wing is one of many, great icons captured and encapsulated in time by the artist.
Joining the spitfire wing in Gormley's `Gallery of Greats' are portraits, images and exhibits of other important icons that have resonated with the artist. Bono, Van Morrison, George Best and Joey Dunlop are among the portraits included in the exhibition while the Volkswagen also makes an appearance.