Keown honour for Saintfield man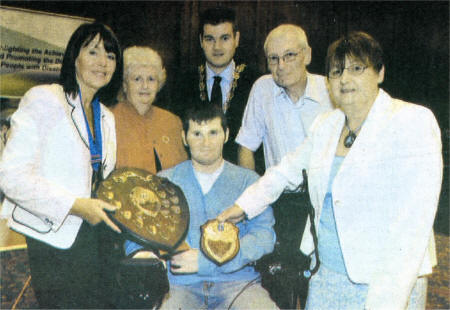 Jonathan Keery (centre) who won the Flogas Shield at The William Keown Trust Personal Achievement Awards. Included are Trust President Kate Smith, Jonathan's mother Pat, Down Council Chairman Colin McGrath, Jonathan's father Tom and Marie McStay.
A MAN left disabled by a motorbike accident has been recognised for his courage at the annual William Keown Awards Ceremony.
Jonathan Keery, from Saintfield was in a coma for four and a half weeks following an accident in 1999.
He was presented with the William Keown Personal Achievement Award at the Europa Hotel ceremony held to celebrate the accomplishments and courage shown by people with some form of disability. Trust President Kate Smith presented Jonathan with the Flogas Shield in recognition of his ability to live life to the full despite his disability which affects the part of his brain controlling his movements.
Jonathan attends Thompson House on a weekly basis and with the help of local man Colin Watson has developed painting skills using apparatus worn on his head.
He has contributed to a number of art exhibitions including one in the Waterfront Hall. Despite his disability he completed an NVQ in computer skills and is secretary of his group based at the Rowan Centre.
The William Keown Trust holds biannual seminars and public awareness meetings concerning people with disabilities. Its aims are to change mistaken perceptions about such people and to promote the understanding of equality and inclusion for all.