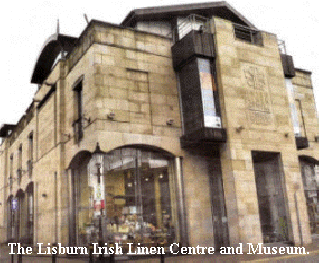 THE future of the building housing Lisburn's Irish Linen Centre and Museum looks uncertain after it emerged the council is considering letting out the ground floor of the Market Square premises.
Councillors have discussed the issue at meetings held in commit-
tee' on several occasions since the start of the year including the June meeting of the Leisure Services Committee.
However, following the resumption of normal business at this meeting it was agreed to recommend the appointment of McKibben Property
Consultants to act on the council's behalf in the matter. This was ratified by the full council meeting on July 23.
Councillors attending the committee meeting accepted there was a need for museum staff to be 'located in close proximity to the collections and delivery point of the service.
It was agreed to recommend council officers should explore how this might be achieved 'while optimising more commercial use of space within the site'.
A spokesperson for the City Council confirmed McKibbens had been retained to 'prepare a preliminary report' regarding the current market potential of the site.
" Lisburn City Council is responsible for ensuring that all its services represent the best value for money," she added.
To help achieve this it does, periodically, engage in 'market testing' its services, facilities and third party agreements."
The ground floor of the Irish Linen Centre and Museum is currently occupied by a shop and a restaurant.
It was also the location of Lisburn's main tourist information office for many years but this moved to the Lisburn Square development some time ago.