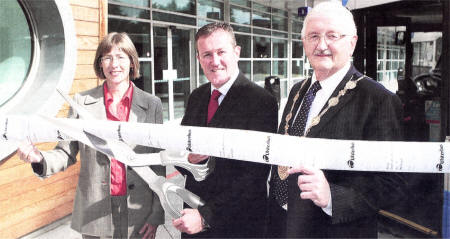 Regional Development Minister Conor Murphy cuts a ribbon of bus tickets, held by Catherine Mason, Translink chief executive, and Mayor of Lisburn City Ronnie Crawford, to open the new Lisburn Bus Centre. US3708-532CD
TRANSPORT Minister Conor Murphy told Monday's official opening of Lisburn's new £2.8 millions state of the art Bus Centre he is keen to 'encourage commuters and other travellers out of their cars'.
The Minister who said this was a key objective' of his investment in bus services also stressed he was 'committed to improving public transport'.
Mr. Murphy described the new Lisburn facility as 'a major asset' and said local passengers would now benefit from 'a modern fully accessible station providing better and more comfortable facilities for all'.
The four year period 2003 to 2007, he said, had resulted in nearly 940 new Translink buses giving the company "one of the most modern, comfortable and reliable fleets in Europe.
"In addition between 2008 and 2011 a further £36 million will be invested in buses to ensure these high standards are maintained,"
the Minister continued. "I would also like to acknowledge the support of the EU Building Sustainable Prosperity Programme which part funded this new facility for the travelling public."
Mr. Murphy also took the opportunity provided by the opening ceremony to launch the new Translink Passenger's Charter.
This sets out standards and targets for punctuality and reliability, waiting times, standing on buses and trains, complaints procedures and what passengers can expect from Translink staff. The Minister added: "The Charter is a statement of Translink's commitment to continuing to improve the high standards of public transport service that passengers expect when using buses and trains throughout the region."
The new Bus Centre includes a ticket and information office, refreshment area, improved passenger information, a care and baby room, CCTV and public toilets. Situated at the corner of Smithfield and Market Place it offers quick access to Bow Street Mall and the surrounding commercial area.Translink also says a new bus lane will increase access to the Bus Centre and shorten journey times.
neil.greenlees@jpress.co.uk
Mayor pays tribute to former councillor Fallon's 'pet project'
THE Mayor paid a warm tribute to former Councillor Ned Falloon who 'adopted the new Bus Centre as his pet project' during its official opening on Monday. Councillor Ronnie Crawford said Mr. Falloon had been 'committed' to the scheme ever since the demolition of the swimming pool on the site of what is now Lisburn Square. "I am sure he too is delighted with the Bus Centre's visual quality and impact," the Mayor added.
Mr. Crawford said he hoped the new facility would boost the economy by bringing visitors from all over Northern Ireland to avail of the 'wide range of retail opportunities' on offer.
He described public transport as the 'cardio vascular system' of the province and added there was a need for a 'fast, efficient and economic', network.
The Mayor said he appreciated increasing oil prices were forcing fares up but added he felt now was 'the most propitious time' to reduce them as loss of revenue would be more than compensated by additional travellers, given the demand for a drop in greenhouse gases and the number of cars on the road.
On a lighter note Mr. Crawford said he had been one of the first callers at the Bus Centre, leaving in his application for the 60+ Smartpass.