Lisburn gets ready to celebrate its 400th birthday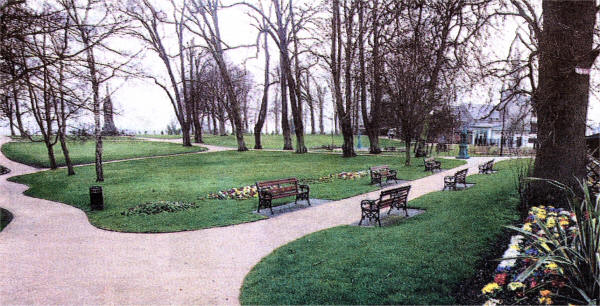 Castle Gardens
| | |
| --- | --- |
| | Market Square where Sir Fulke Conway encouraged settlers to erect homes in the early 17th century. |
PLANS are to be drawn up to celebrate what will literally be the party of a lifetime - Lisburn's 400th birthday.
Councillors are to consider how the city should celebrate the 400th anniversary of its foundation on June 30 next year.
The Council's Assistant Director of Leisure Services Mr. Brian Mackey reminded the Leisure Services committee last week it was on June 30. 1609 King James 1 granted the Manor of Killultagh to Sir Fulke Conway.
He said this marked the start of urban settlement at Lisnagarvey, which was renamed Lisburn in the 1660s.
Mr. Mackey said Sir Fulke 'acted quickly to establish his authority in South Antrim' during the period known as the 'plantation of Ulster' by building a manor house on what is now the Castle Gardens site.
This, he added, was reported to have been almost completed by 1611 and before his death in 1624 he had built a bridge over the River Lagan as well as a church where Lisburn Cathedral now stands.
Mr. Mackey said settlers had been instructed to erect houses in 'the Market Place' - now Market Square - and the streets leading from it - Bridge Street and Castle Street. He explained the street layout of early
Lisnagarvey" which basically occupied today's 'Historic Quarter', remains unchanged as was evident from the earliest map - 'the Ground Plotte of Lisnagarvey c1620s'.
In his report to the Committee's April meeting Mr. Mackey said the old Irish place name Lisnagarvey (Lois na gCearbhach) meaning 'fort of the gamesters' predated 1609. This, he said, was also the case with Kilrush Graveyard, but he stressed there was no documentary or archaeological evidence of any urban settlement at Lisburn prior to 1609.
Mr. Mackey, who felt 2009 was a 'particularly important year to celebrate the foundation of Lisburn, pointed out the restoration of Castle Gardens made the anniversary particularly topical.
He explained much of the information he had given to the Committee had been obtained during research for an exhibition on 17th century Lisburn which it was hoped could be arranged to coincide with the official opening of the Gardens.
Councillors agreed the matter should be passed to their Strategic Policy Committee colleagues to allow the preparation of a report on how best to mark the anniversary.
How do you think should Lisburn celebrate? Let us know at edus@mortonnewspapers.com or write to 12A Bow Street, Lisburn BT28 1BN