by STACEY HEANEY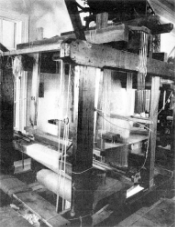 LOCAL people who get the chance to visit Buckingham Palace this summer will experience something which reminds them of home.
For the first time ever, and for this summer only, visitors to the Palace will experience the spectacle of the Ballroom set up for a State Banquet.
It is a breathtaking spectacle usually reserved for Heads of State and the great and the good, but this year visitors will be given access to the Ballroom splendidly laid out for a State Banquet.
During their visit they will not only see the traditional horseshoe-shaped State Banquet table, set with dazzling silver-gilt from the Grand Service and adorned with magnificent flower arrangements and will discover the Royal connection with the linen industry in Ireland, and particularly that of
Lisburn.Lisburn is often thought of as the birthplace of the Irish linen industry, and Coulson's of Lisburn is one of the city's best known exports.
One historic cloth produced by Coulson's is still kept in the Royal linen Room and it has been included in the new book 'For the Royal Table - Dining at the Palace'.
The cloth, which has the name J.W. Coulson woven into one edge, was made in "121 for
George IV to celebrate military victories in the Napoleonic Wars.
Coulson's, which opened in 1764, was based in a thatched building on Linenhall Street and remained there until their closure in the 1950's.
William Coulson (1739-1801) set up the damask linen weaving factory in Lisburn in 1764, which was among the very earliest in Ireland.
His hand woven linen tablecloths and napkins became renowned for their high quality and elaborately woven patterns, and were commissioned by Royal and noble families throughout the British Isles and Europe.
| | |
| --- | --- |
| | |
| The Ballroom splendidly set up for a State Banquet. | Much of the Royal linen has traditional! been produced in Ireland. This linen wa made for Queen Elizabeth II. |
The Royal Households at Buckingham Palace, Windsor Castle. Sandringham and Balmoral have always used linens produced by Coulsons of Lisburn.
The four sons of the original founder continued the business between them and it continued to produce hand woven damask linens until the 1950s.
The summer opening of the State Rooms at Buckingham Palace continue until September 29. Admission is by timed tickets.
For further information or to book advance tickets visit www.royalcollection.org.uk or telephone 020 7766 7300.