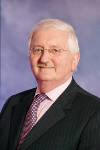 LISBURN Mayor Ronnie Crawford has conceded that Culture, Arts and Leisure Minister, Gregory Campbell looks set to blow the final whistle on plans for a National Stadium at the Maze.
Councillor Crawford believes the Minister will give plans for a state-of-the-art, 42,500 seater stadium for football, rugby and gaelic the red card in a matter of weeks.
Instead, it is thought that Windsor Park will be extended to a capacity of between 20-22,000, with Linfield foregoing the current contract they have with the IFA, while rugby and Gaelic will both receive subsidies for their current homes at Ravenhill and Casement Park.
Mr Crawford said: "It is my understanding Gregory Campbell will announce within the next month a decision to abandon a National Stadium for Northern Ireland.
"It is most likely Windsor Park will be extended in return for Linfield FC annulling the existing contract with the IFA which garners them a percentage of gate receipts and television fees from international matches played there. This has created a financial imbalance whilst clubs like our own Lisburn Distillery and others have to struggle to survive."
Mr Crawford said his fears were confirmed after the Minister hosted a reception to celebrate Linfield's league achievements at Stormont last week.
"I find it quite interesting that Linfield proposed to extend Windsor Park to 22,000 and then Gregory Campbell, at a reception held for Linfield, announced that within five or six weeks a decision on the Maze would be made" he said. "If the announcement had been detrimental to Linfield I don't think he would choose a reception for Linfield to say anything."
Mr Crawford, who claimed the latest information came from a 'very high' source continued, "It is most regrettable that Mr. Campbell seems likely to perpetuate the existing apartheid in local sports. The National Stadium would have been a statement of confidence in a new shared future for Northern Ireland. He may well be accused of capitulating to Jim Allister and the TUV who have been making great political capital out of their irrational attitude to the Maze.
"Ulster Unionists will be bitterly disappointed, but not surprised, if the National Stadium is dumped. Councillor Basil McCrea predicted that this decision was already taken by the DUP during a retreat to Lisbon some time ago and we believe he may well be vindicated on this issue, despite vehement denials by the DUP at the time.
"However, I would like to put on public record my thanks to Edwin Poots (DUP assembly member and former minister) for the valiant efforts he made to secure this investment for Lisburn. Those efforts may well have cost him his ministerial post, but he can hold his head high as he chose to put the interests of this constituency before career advantage and I think voters here will not forget that."